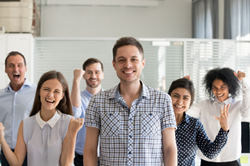 "I've been learning so much, getting so much hands-on experience, and having so much fun honestly. With the tasks you all have been assigning us, I'm realizing how much I actually enjoy the work, and it's pushing me to want to pursue a career in this." - Former Intern Sidra Shaikh
BRAMPTON, ON (PRWEB) July 20, 2021
Mrkt360 has designed a digital marketing and sales internship where participants are trained in the use of advertising platforms such as: Google, Facebook, and YouTube. In addition, interns are well instructed in outreach sales techniques such as cold calling and email marketing. The program has been introduced with the goal of teaching students the skills they'll need to thrive in a professional environment. Mrkt360's internship program aims to ensure a more efficient and talented digital marketing industry is developed.
Mrkt360 is a Toronto, Ontario based digital marketing agency and specializes in creating marketing solutions through multiple advertising platforms (Google, Facebook as well as YouTube). Mrkt360 develops effective digital marketing strategies for its clients with the inclusion of generating a brand image and social media presence.
The internship program centres on three core competencies; creativity, efficiency, and strategy. Effective and compelling marketing strategies are built around these three tenets. Our internship program ensures participants are versed in these competencies by utilizing lessons, activities, and contributions to client projects as forms of learning.
Lessons are similar to short lecture sessions held on a regular basis. Lesson topics can be something specific such as the benefit of Microsoft Ads to a B2B client, or something much more abstract like how to design emotionally relatable advertisements.
Activity plans are used to demonstrate both the creative and strategic side of marketing. They offer practical and hands-on experience where interns can help design logos, images, videos, or recommend audiences for a specific campaign. These tasks are numerous yet brief in order to offer a wide range of diverse activities.
Client contributions are monitored by our internship team. They can range from actually meeting and signing a client (for which commission based financial incentives are provided), to much more small tasks such as aiding in the copywriting of a specific adset.
The large goal is to ensure that interns are assured as much knowledge and practical education as possible during the duration of the program. Learning through lessons, assignments, or shadowing client interactions affords participants the opportunity to see what digital marketing looks like on a day-to-day basis at Mrkt360.
Mrkt360 is committed to developing and enhancing the digital marketing industry as a whole. This is symbolized by our dedication to teaching the next generation of marketers, collaborating with partners, and being at the forefront of technological changes. Announced just last week, Mrkt360 has formed alliances with Comuniquemos Hoy and 4Latam in order to introduce a new advertising feature, Display and Video 360 (DV360), to Latin American markets. DV360 is Google's latest advertising feature and is expected to become the go-to platform for marketing purposes overtime. This collaboration between Mrkt360, Comuniquemos Hoy and 4Latam is expected to improve the effectiveness and creativity of marketing strategies utilized by the three firms.
Mrkt360 is developing into a major force in the digital marketing industry and its social as well as corporate goals are crucial to that development. Our firm is constantly expanding and looking for the next possible way to both grow and improve the digital marketing industry. Our hope is to become a trusted leader within the industry, committed to not only clients, but partners, students, and the industry of tomorrow as well.
This article was written by Abdul-Dhahir Ajani and edited by Nicolas Minardi.