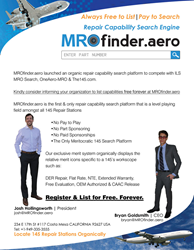 Newport Beach, CALIFORNIA (PRWEB) October 09, 2017
MROfinder.aero is a meritocracy, and so is the NFL, NBA, MLB, MLS, NHL & most pro sports.
A level playing field, where all 145s can list & highlight capabilities based on actual workscopes using merits such as:
DER | PMA | Free Eval | NTE | Part Expert | Modified ARC | Function Test Only | Extended Warranty | CAAC
Key benefits of a 'Free to List' meritocratic 145 repair capability listing platform outweigh the existing 'Pay to List' oligopoly:

Never pay to list. List & highlight your Repair Station's repair capabilities organically.
A level playing field for 145 Shops of all sizes.
Never pay to move up in search results
Move up in search results based on Actual Workscopes (merits) performed by your Repair Station.
The upcoming largest pool of participating 145 Repair Stations
We have shops listing on MROFinder.aero that do not list on ILS, OneAero-MRO, The145.com, Partsbase or Locatory.
145 Repair Stations are quickly realizing MROfinder.aero merits are an efficient & effective way to target market R&O capabilities to Airlines, Operators, OEMs & Aviation Professionals.
Shops, Operators & Aviation Professionals will save time, as well as reduce phone calls.
A special thanks to 145 Repair Stations listing capabilities in the last 60 days:

Air France Industries
Duncan Aviation
MEKCO Group
Aircraft Electric Motors, Inc.
Co-Operative Industries Aerospace & Defense
Cool & Start Aviation
Jet Accessories Technicians, Inc.
Quality Aircraft Accessories
Sandia Aerospace
25 Repair Centre
Advanced Materials Technologies, LLC
Advantage Aviation Technologies
AEM Ltd
Aero Instruments & Avionics
Aero Propulsion Support,Inc.
Aerotech of Louisville, Inc.
Air Cargo Equipment Inc.
Air Transport Components
AirCo Services, LLC
Aircraft & Components Technical Services
AIRO INDUSTRIES COMPANY
AJW-Technique
American Cooler Service, Inc.
Apple International Inc.
Applied Aerodynamics Inc
Approved Turbo Components Inc.
Avanti Aerospace & Engineering Inc.
AVIA Technique
AVIATION BRAKE SERVICES
AVIONIX CORPORATION
B & W - Brakes & Wheels
Cape Aerospace Repair Services, Inc.
Columbia Manufacturing Inc
Cross-Check Aviation
CVG Aerospace, LLC
Doncasters Shrewsbury
Engine Services Partners Sweden AB
FIERO AERO LLC
Global Aviation Tech Services
Global Tech Instruments, Inc.
Gyro Specialist Inc.
Helicomb International, Inc
Herber Aircraft Service Inc.
Iliff Aircraft Repair
JET LINK INTERNATIONAL
Mid-Continent Instruments and Avionics
Mingo Aerospace
Novo Aero Services LLC.
Omnigas Systems, Inc.
Paz Aviation, Inc.
PECO Astronics
Praxis Resources
Prototype Enginnering Mfg. Inc.
Regional Avionics Repair LLC.
Silver Wings Aerospace
SkyTeam International
Southern Airframe Services Limited
Summit Aviation
Team Aero Services, Inc.
Thrust-Tech Aviation, Inc.
Toronto Sky Aviation
Turner Aviation
We look forward to MROfinder.aero providing the aviation industry with the largest organic Repair Capability Search Engine
About MROfinder.aero
MROfinder.aero is a repair capability search engine to locate Repair Stations to Test, Repair & Overhaul Spares & Rotables.
MROfinder.aero is the only 100% meritocratic repair capability search engine in the world.
We never charge MROs to list capabilities and have created the only level playing field for 145 Repair Stations to list & highlight repair capabilities.
MROfinder.aero is located at 234 East 17th Street #117 Costa Mesa CALIFORNIA 92627 USA