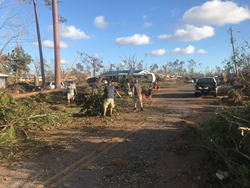 ORANGE, Calif. (PRWEB) November 09, 2018
MSI, North America's Leading Premium Surface Supplier, contributes to Hurricane Michael relief and recovery efforts.
MSI donated over 1,200 bottles of GatoradeTM, 1,000 face masks, and 300 cans of insect repellant, while members of Team MSI distributed food, bottled water, and ice to hundreds of people in need. Employees of MSI's local branches also collected other essentials, such as hygiene items, cleaning products, clothing, and pet food.
In collaboration with the Ohana Institute and MSI's local customer, Surfaces PCB of Panama City Beach, Florida, MSI volunteers visited some of the most hard-hit areas to provide urgently needed hands-on help. In addition to cutting down trees and moving furniture, volunteers transported hundreds of hot meals to distribution centers.
Raj Shah, President of MSI, comments, "The devastation these communities have suffered is unfathomable—our thoughts go out to everyone affected by Hurricane Michael." Shah adds, "I'm incredibly proud and humbled by the giving spirit of our employees—they're a testament to our company's commitment to helping those in need. Team MSI will continue to volunteer in the weeks and months ahead as families rebuild and recover from this powerfully destructive hurricane."
Founded in 1975, MSI is the leading supplier of premium surfaces in the U.S. - including flooring, countertops, decorative mosaics, wall tile, and hardscaping products. The company offers an extensive selection of granite, marble, Luxury Vinyl Tile, porcelain, ceramic, quartz, and quartzite —among others. Headquartered in Orange, California, MSI has over twenty-five distribution centers across the United States and Canada and maintains over 125 million square feet of inventory, imported from over thirty-six countries on six continents. For more information on MSI, visit http://www.msisurfaces.com.