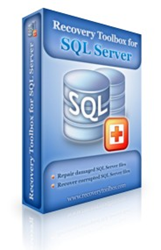 an MSSQL repair tool with unmatched performance and capability to restore the most seriously damaged files.
Sacramento, CA (PRWEB) July 10, 2014
Recovery Toolbox, the author of a growing family of fast, compact and reliable data recovery tools for many popular file and database formats, is glad to present a major functional update for Recovery Toolbox for SQL Server. The new version is based on a completely rewritten engine and features a host of functional and performance improvements. http://www.repairsql.recoverytoolbox.com/
Recovery Toolbox, a data recovery expert known for its deep expertise in the field of data recovery, announces the availability of the newest and largely improved Recovery Toolbox for SQL Server, a powerful MSSQL repair tool for database professionals and regular users looking for a way to restore a single database damaged after a system crash. http://www.recoverytoolbox.com/
The interface of the program is essentially a multi-step recovery wizard that guides the user from the very first file selection screen to the final step containing a detailed log of the current recovery session. Recovery Toolbox for SQL Server works with damaged database files of the most popular formats (Microsoft SQL Server 7, 2000, 2005, 2008 and 2008 R2) and of any size damaged in various types of accidents, ranging from hard drive failures to virus attacks. http://www.recoverytoolbox.com/help_sql.html
This MSSQL repair tool is absolutely irreplaceable for network and database administrators dealing with MS SQL Server database corruption on a regular basis, and users looking to restore their data after a crash and with no backup at hand. The program comes with a convenient integrated database browser and supports two data output modes: output to a database and output to a script. In the former case, all recovered data are saved to a user-defined database; the latter option saves recovered data to an SQL script on the user's hard drive that can be easily copied over to another system. Recovery Toolbox for SQL Server restores all major SQL database objects types, including system and user tables, their content, views, stored procedures, user data types and functions. http://www.sql.recoverytoolbox.com/
"Database recovery solutions have always been a top priority for us, since database corruption often has a lot more serious consequences than the corruption of a PowerPoint presentation, for example," explained Victor Bobrov, Senior Product Manager at Recovery Toolbox. "Today, we present Recovery Toolbox for SQL Server – rewritten from scratch and featuring one of the most sophisticated engines available on today's market."
The demo version of this MSSQL repair tool can be downloaded free of charge from the official website of its manufacturer.