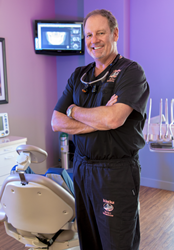 Overall, undergoing therapy with LANAP restores oral health, reduces complications of systemic conditions, and can boost immune system health.
MT. PLEASANT, S.C. (PRWEB) July 14, 2020
The team at Smiles by Hogan encourages patients with symptoms of gingivitis to seek LANAP® gum disease treatment to boost their oral health and immune system amid the COVID-19 pandemic. Dr. Kevin Hogan, founding dentist of Smiles by Hogan in Mt. Pleasant, SC, raises awareness of the link between gum disease and a compromised immune system as well as the benefits of minimally invasive laser gum disease treatment.
When gum tissue is healthy, it creates a protective barrier around teeth, keeping them stable in the bone and sealing out bacteria. The chronic inflammation of the gum tissues affected by gum disease breaks down this barrier as the infected gums pull away from the teeth. This infection and inflammation are caused by a buildup of bacterial plaque on the tooth surfaces and along the gumline. As gums become more infected, more bacteria accumulate in the deepening periodontal pockets around the teeth.
These bacteria can travel through the bloodstream, aggravating systemic conditions like diabetes and cardiovascular disease. Additionally, untreated gum disease increases the risk of contracting dangerous viruses and diseases by compromising the health of the immune system. Patients experiencing symptoms of gingivitis, including tender gums that bleed easily, gum recession, persistent bad breath, and loose teeth, should seek treatment as soon as possible to protect their oral and physical health.
Dr. Hogan has received advanced, hands-on training using the PerioLase® MVP-7™ laser to perform LANAP and is highly experienced in this minimally invasive treatment for patients with moderate to advanced gum disease. The revolutionary protocol is the scalpel-free alternative to traditional osseous surgery and provides numerous advantages for patients, including less pain and bleeding, faster recovery with less risk for infection, cauterization at the treatment site, and regeneration of new gum tissue.
Dr. Hogan compares patients' options for gum disease treatment: "Traditional periodontal surgery is with a scalpel. Suturing is involved and it can be painful post-operatively." Dr. Hogan continues, "Using the PerioLase MVP-7, the only FDA-cleared dental laser used for periodontal surgery, involves no cutting or post-op pain and you can virtually go back to work in the same day."
Unlike osseous surgery, the dental lasers used during LANAP treatment gently vaporize diseased gum tissue and bacteria without damaging healthy tissues or creating incisions that need sutures. Patients prefer LANAP gum disease treatment due to greater comfort levels, accelerated healing, and fast return to normal activities. Overall, undergoing therapy with LANAP restores oral health, reduces complications of systemic conditions, and can boost immune system health.
Patients concerned they may have gingivitis, or a more advanced stage of gum disease can contact the experienced LANAP dentist in Mt. Pleasant, SC for personalized treatment. Smiles by Hogan can be reached by visiting http://www.smilesbyhogan.com or calling 843-216-0908.
About the Doctor
Dr. Kevin Hogan is a general dentist providing individualized care for patients in Mt. Pleasant, SC. Dr. Hogan is a graduate of the Indiana University School of Dentistry and has completed hundreds of hours of continuing education courses to stay contemporary with the latest dental technologies. In addition, he has also completed coursework with the Dental Organization for Conscious Sedation and has lectured at the University of North Carolina, Emory University, the Saginaw Valley University and AUA-American University of Antigua on head and neck anatomy and oral pathology. Dr. Hogan is a member of the American Dental Association, International College of Cranio-Mandibular Orthopedics, Academy of Laser Dentistry, International Association of Physiologic Aesthetics, Institute for Advanced Laser Dentistry, DOCS (the Dental Organization for Conscious Sedation), International Congress of Oral Implantologists and the South Carolina Dental Association. He is also a past member of the American Straight Wire Orthodontic Association, Maxillofacial Orthopedic Growth and Development, the American Academy of Pediatric Dentistry and the Functional Orthodontic Society. He and his team are dedicated to providing exceptional oral care to patients through personalized treatment plans. To learn more about the services offered by Dr. Hogan, please visit his website at http://www.smilesbyhogan.com or call 843-216-0908.