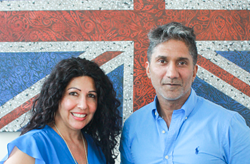 Mughal focuses on providing Human Capital solutions that will ensure their clients' success— for today and the future.
MIAMI (PRWEB) December 06, 2018
Mughal & Associates is one of the nation's leading and fastest growing boutique Search and Interim Resources firms delivering extraordinary talent to an international network of clients within the domains of Accounting & Finance, Information Technology, Human Resources, Digital, Marketing, Sales and Operations.
Founded in 2007 by industry experts Tina Engineer-McRae and Ameer Mughal, Mughal & Associates' team of subject matter experts work directly with decision makers to offer a uniquely tailored service to meet the needs of each client.
With over 12 years of experience, Mughal's proven track record of search and recruitment strategy has successfully placed thousands of professionals globally. They've worked with highly funded startups, emerging, middle-market and Fortune 500 companies throughout North America, Canada, Latin America and Europe. Mughal focuses on providing Human Capital solutions that will ensure their clients' success— for today and the future.
Mughal's team of subject matter experts bring extensive knowledge and real-world experience from within their respective disciplines. The combination of their practical business experience aligned with their recruitment strategy and customized search approach provides the firm with the unique ability to develop long-term partnerships and deliver ongoing client success.
Co-founders Tina and Ameer also bring an impressive level of expertise to the firm. Tina has spent over 27 years as a leader in the International Recruitment arena, leveraging thousands of critical corporate players, entrepreneurs and business owners to build solid partnerships through a network of professional connections and referrals worldwide.
"Having spent over 27 years working in the recruitment industry, I'm still incredibly passionate about connecting the best talent with our long-standing clients and knowing they will thrive together. Through our extensive network of referrals, we are able to uncover the right people for every position, even if they aren't actively in market. That is something a company can't do by themselves. What inspires me to come to work every day is building a true value-add partnership with our clients, offering a best in class service and customer experience which impacts their business and bottom line," shared Tina.
Ameer's diverse, multicultural background and expertise in technology has allowed him to build partnerships with middle-market to Fortune 500 organizations both domestically and internationally. He also brings over 20 years of technology consulting and leadership experience having partnered with global leaders to rapidly build scalable IT solutions.
The team is continuously expanding through bringing on more industry experts. Most recently, Luciana Pavan joined Mughal & Associates as head of Digital & Marketing Search. Luciana, who was a VP of Digital Media at A&E Network and previously at Viacom, brings over 25 years of leadership experience and a high- profile network of professionals in the Digital and Marketing fields.
"I've known Tina and Ameer for over 10 years and was very impressed by their amazing reputation in the market. As a former client, I recognized a major gap in the Digital & Marketing Search industry and wanted to utilize my years of experience and vast network to assist in bridging the gap between exceptional companies and great talent," stated Luciana.
Leveraging their expertise, valuable insight and reputable network, the firm has established themselves as a dominant player in the Search and Interim Resources arena.
In their next big move to transform the Search and Interim Resources industry, Mughal & Associates headquarters has relocated to Miami's thriving innovation hub, CIC Miami. The move comes with the goal of expanding their recruiting services worldwide by creating new opportunities through high-tech virtual offices. The new headquarters will be located at CIC Miami 1951 NW 7th Avenue, Suite 600, Miami, FL 33136.