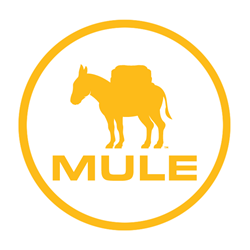 MEMPHIS, Tenn. (PRWEB) January 27, 2023
MULE, creator of high-quality products and equipment for home and professional-grade projects, is proud to announce its brand debut at the 2023 National Hardware Show in Las Vegas on Jan. 31 - Feb. 2. MULE was created to provide rugged, heavy-duty products that solve the needs of everyday do-it-yourselfers and professionals. At the convention, the brand will introduce two products set to revolutionize the way people work in their homes and garages: the flagship Mobile Workshop, and the high-velocity Garage Fan.
"We're thrilled to have the opportunity to exhibit at the National Hardware Show and introduce our brand and high-quality products to industry professionals, DIY-enthusiasts and more," said Matt Willard, MULE Marketing Vice President. "MULE aims to make home projects easier, more convenient and ultimately more enjoyable with versatile, intelligently-designed products that meet professional standards and everyday needs."
The new 5-in-1 Mobile Workshop is a versatile, professional grade utility cart that combines functionality, organization and efficiency for an all-in-one solution that allows you to tackle projects with ease. This multi-purpose cart is a mobile workshop on wheels, including an integrated three-speed portable fan, high-powered LED light, built-in power strip, tool tray and a loading tray to haul materials, all in a streamlined, efficient design to help you work smarter, not harder. The Mobile Workshop will be available in Summer of 2023 for $299 on mule-it.com.
In addition to the Mobile Workshop, MULE will debut its Garage Fan, a high-velocity, 18-inch fan built for garages, workspaces, fitness centers, warehouse spaces and more – and powerfully designed to keep any space cool and comfortable, even during the hottest months. Designed with unmatched versatility and portability, the MULE Garage Fan features a universal mounting system and eight-foot standard power cord, allowing it to be mounted anywhere securely on the ceiling. The Garage Fan does not require a junction box or hardwiring and the ergonomic, adjustable handles and three-speed motor ensure that mobility and airflow can be fine-tuned for maximum comfort. The Garage Fan will be available in Spring of 2023 for $199 on mule-it.com.
MULE will be making its first-ever appearance at the National Hardware Show, Jan. 31 - Feb. 2, 2023, at Booth SL7013. For more information about MULE, please visit http://www.mule-it.com.
About MULE
MULE combines durable, long-lasting construction with innovative, efficient designs to create versatile, functional products to make even the toughest projects more pleasant. Built with professional grade craftsmanship, our products can withstand the rigor of the jobsite and tackle everyday tasks at home. For do-it-yourselfers and handy household hobbyists, MULE products empower people to approach projects with added confidence and enthusiasm, knowing they have the best MULE for the job. Professional Grade Products for Everyone. http://www.Mule-It.com.