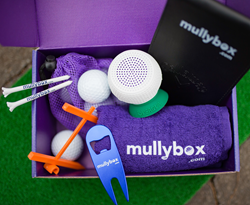 "As a group of young professionals that love to golf, we recognize that as millennials enter the workforce, it becomes more difficult to focus on golf," said Drew Amato, Co-founder and CEO of Mullybox. "We created Mullybox to conveniently deliver the tools golfers need."
DETROIT (PRWEB) January 29, 2019
This month marks the one-year anniversary for Mullybox, the world's fastest growing golf-equipment subscription box. In its first year, Mullybox delivered more than 2,500 boxes to its subscribers, and the company projects to send more than 5,000 in 2019. Mullybox plans to expand its range of offerings which currently includes products from household brands like Callaway, Oncore, Arccos, and more.
Mullybox's goal is to aid those golfers who may not have the time, patience, or expertise to find effective golf products. Through diligent research and testing, the experienced Mullybox team selects practical, useful items from golf's enormous product pool to send directly to customers' doors each month.
"As a group of young professionals that love to golf, we recognize that as millennials enter the workforce, it becomes more difficult to focus on golf," said Drew Amato, Co-founder and CEO of Mullybox. "We created Mullybox to conveniently deliver the tools golfers need."
Every month, Mullybox not only replenishes essentials like golf balls and eco-friendly tees, but it also provides a few unique gifts that fit the theme of that month's box. Monthly themes range from "Winter Range Session" to "On Course Entertainment," and the theme-matching gifts are meant to enhance performance. Mullybox also includes digital aids, such as an instructional video, that feature and demonstrate the items in that month's box.
Learn more at http://www.Mullybox.com
About Mullybox, LLC: Mullybox is a golf subscription box company based in Detroit, MI. Founded in 2018, Mullybox has sent over 2,500 boxes. Mullyboxes include: golf balls and tees every month, with 2-3 new rotating gifts.