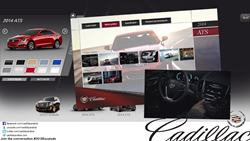 SensyTouch's goal is to provide the best solution for a variety of needs where interaction is a key component of the experience.
Irvine, CA (PRWEB) November 20, 2013
SensyTouch, a leader in multi-touch hardware and interactive software solutions, helped make car shopping easier and more interactive by designing three applications for General Motors (GM) brands of Chevrolet, Cadillac and GMC. The applications were used at the mid-November Dubai International Motor Show, the region's largest and most influential automotive event.
"SensyTouch provides solutions to a variety of industries, including automotive," said Suda Sampath, President and CEO of SensyTouch. "The applications provide an engaging showroom-type experience that allows interaction with GM brands."
The applications were used on a SensyTouch 42" multi-touch table. The apps were designed to put visitors in the driver seat before even opening a car door by showing the car models, the specs, a media gallery and interactive interior and exterior color selections. In addition, the apps provide an inquiry form for customers to request pricing and a test drive.
SensyTouch's experience in the automobile industry includes custom designed sophisticated software solutions for such brands as BMW and its showrooms.
SensyTouch develops, engineers and markets a premium range of multi-touch solutions, featuring slender, elegant design, responsive, fast interaction for a broad range of industries. SensyTouch is headquartered in Irvine, Calif.
https://www.facebook.com/sensytouch
http://www.youtube.com/user/SENSYTOUCH/videos
To learn more about SensyTouch multi-touch table, multi-touch kiosk, multi-touch wall and multi-touch software, please call 1 (800) 385-5814 or email info(at)sensytouch(dot)com.