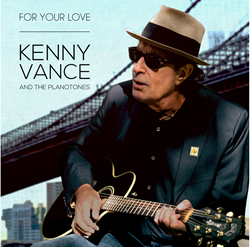 This is an album that celebrates authenticity...and it's rare for a father and son to record together these days.
FORT LAUDERDALE, Fla. (PRWEB) February 28, 2020
Multi-Hall of Fame doo-wop sensation Kenny Vance and The Planotones is thrilled to announce they have released their new album, "For Your Love."
"This is an album that celebrates authenticity, and people who hear our music know it's the real thing, and will bring a smile to their face and bring back feelings they love to remember," said Vance, currently on a 12-city U.S. tour.
During his phenomenal career, Vance co-founded Jay and the Americans. The immensely popular group opened for The Beatles' and The Rolling Stones' first U.S. performances in 1964.
On the new album, Kenny and his son Ladd, the newest member of the group, recorded a duet titled "Devoted to You." "It's rare for a father and son to be able to record together these days, but this song that I knew in my youth expresses a sentiment that I knew we could both connect to immediately – a very special experience for both of us to share," said Vance. The song caps off a heartfelt album even those new to doo-wop will appreciate.
"In 'Tear Drops,' our recording honors the original recording by Lee Andrews & the Hearts, which includes a sample of his actual record (courtesy UMG) within ours," said Vance. "For those not familiar with Lee Andrews & the Hearts, Andrews was the father of Questlove, who is the music director/band leader on 'The Tonight Show Starring Jimmy Fallon.' We took care to do the song in the same key and tempo as the original, so the sample would fit seamlessly. Through this recording, we pay homage to one of our all-time idols."
The new album includes "Love Me," a song Vance especially enjoyed recording. "One night while surfing the web, I discovered an original song that a Tex-Mex group had recorded in the late '50s," said Vance. "It attracted me immediately; because of its simplicity and its raw emotion."
The list of songs on the new CD includes classics "Sea Cruise," "Daddy's Home" and "Love Letters."
The new CD can be downloaded from iTunes, Google Play Music, and other top music providers. The 13-song album is the distinguished group's eighth since its inception in 1992.
The Planotones were a fictional musical group Vance created for the film "American Hot Wax," for which he produced the soundtrack in 1977. Later, Vance led the group in its leap from the screen to reality to its incarnation as the Planotones of today. Vance's signature song, "Looking for an Echo," has garnered millions of YouTube hits.
Today, the six-person group includes founder and lead singer Kenny Vance, and two-time Grammy-nominated Music Director Johnny Gale.
In 2002, Kenny Vance was inducted into the Vocal Group Hall of Fame, and in 2007 he was inducted into the Long Island Music Hall of Fame. In 2019, Kenny Vance and The Planotones (http://kennyvanceandtheplanotones.com) received the East Coast Music Hall of Fame award for "Best Music Maker" in the "Vocal Group" category. Vance is also a multi-platinum-selling record producer, with the soundtracks of movies "Animal House" and "Eddie & the Cruisers."