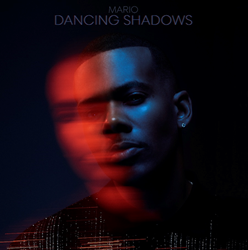 LOS ANGELES (PRWEB) September 14, 2018
GRAMMY® Award-nominated, multiplatinum-selling singer, songwriter, producer, and actor, Mario will release his highly-anticipated fifth studio album, Dancing Shadows on October 5th via his own New Citizen label and Empire. The pre-order is live and unlocks an instant grat download of title track, "Dancing Shadows" and the recently released lead single "Drowning."
Dancing Shadows was recorded in London and executive produced by prominent writer/producer/engineer, Jake Gosling who's credits include Ed Sheeran, Shawn Mendes, Harry Styles, Daft Punk, and Lady Gaga to name just a few. Pushing boundaries, Mario taps into the R&B spirit fans know and love and elevated the genre to a new level, experimenting with expansive electronic soundscapes, trap energy, and pop sheen.
Mario also unveils the sexy and steamy music video for "Dancing Shadows" which features intimate dance sequences choreographed by the legendary, Richard "Richy" Jackson renowned for his work with Lady Gaga and more. Watch the stunning visual here.
About the video, Richy comments, "Working with artists who want to get their projects right as much as I do - Mario is that artist. We trusted the music, our vision, and our instincts. The collaboration was on point." Mario adds, "I wanted to do something that I hadn't done before and Richy was the man to bring that vision to life. We came up with a concept that was sexy and powerful, just like the song."
"Dancing Shadows" arrives hot on the heels of lead single, "Drowning" which continues to clock millions of streams and recently impacted radio emerging as #1 most added at Urban AC.
Adding to the excitement, Mario also just announced he will be joining the cast of Fox's Empire as a recurring character playing the role of "DeVon," an up-and-coming R&B singer who supports his ailing sister. Mario's prior acting credits include the TV series Love That Girl! and the films Freedom Writers and Step Up.
At 14 years Mario became Clive Davis' protege, and his eponymous debut studio album rolled out in 2002 featuring his first top five R&B/pop hit "Just a Friend 2002." Two years later, Mario revisited the upper echelons of the Billboard charts with his double platinum sophomore set Turning Point which spun off the melodic double-platinum Hot 100 chart-topper "Let Me Love You" which stayed at #1 for 9 consecutive weeks.
Mario is ready to reclaim his role as a standard-bearer of progressive R&B/Pop with Dancing Shadows.