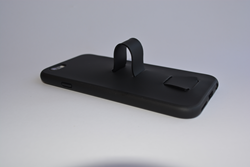 This invention allows people to use a hand-held electronic device in a hands-free manner.
HOUSTON (PRWEB) September 10, 2018
Whether video chatting, watching movies or using GPS navigation in the car, Nifticase is designed to give consumers the flexibility to remain hands-free. Nifticase is a phone case, currently offered for iPhone, that features a patented flex band design built directly into the case for maximum versatility. Today, the team behind Nifticase launched on Kickstarter with a $10,000 goal in order to bring their product into production.
Nifticase's exterior is made with an incredibly durable and flexible plastic providing consumers with the protection they need. The accompanied flex band is designed to be slim and lightweight and can be used as a kickstand for three different positions: horizontal, vertical and angled. Additionally, the flex band can also be mounted vertically and horizontally to virtually anything.
"This invention allows people to use a hand-held electronic device in a hands-free manner," explained creator Mauricio Cavalcante. "Nifticase is a multi-purpose, slim fitting, protective case. No bulk, and no extra pieces necessary. I searched all over the internet for a suitable product that would allow my wife to be hands-free while taking care of our newborn son, and video chatting with me while I was travelling. I found nothing that solved our problems, so I decided to create the solution myself."
While in a car, Nifticase's flex band slips right into any car's air vent, which makes using GPS while driving safe and easy for consumers. For those who have struggled to hold a phone while on a flight, Nifticase's versatile flex band allows for the phone to be directly mounted to the tray table. Users can even get creative and mount Nifticase on a water bottle. Slipping a finger through the flex band provides consumers with the necessary grip that they've been looking for.
Nifticase is now available for $19, a 35% discount off the future retail price. To learn more or to support the campaign, visit http://pr.go2.fund/nifticase.
About Nifticase
Inventor Mauricio Cavalcante is a creative problem solver with more than 15 years of experience in bringing new product innovations to the world. He has been awarded multiple US and International patents, which in turn have created significant value for companies and individuals globally. His designs focus is on simplicity, efficiency, and usability. His latest project, Nifticase, started from a personal problem and now has grown into a crowdfunding campaign to help make people's lives a little easier. To learn more, visit https://bit.ly/WinNifticase.