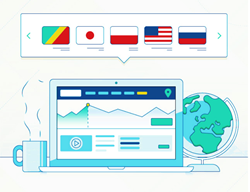 "User Experience is the lever that can unlock a massive competitive advantage in international markets. The ability to conduct online international user testing in multiple native languages is a capability the UX market has long been clamoring for."
Austin, Texas (PRWEB) October 12, 2017
Userlytics Corporation has announced the launch of the 1st multilingual remote user testing service, allowing for native language online usability testing in any country, in any language.
Building on its unique picture-in-picture (PiP) qual & quant online user testing service, the new capability allows customers to request Userlytics deliver the UX test script in the local language, including the landing page and the user interface (UI), or alternatively, provide international usability testing participants who can provide user experience feedback in English.
According to Alejandro Rivas-Micoud, CEO of Userlytics: "User Experience is the lever that can unlock a massive competitive advantage in international markets. The ability to conduct online international user testing in multiple native languages is a capability the UX market has long been clamoring for."
User experience researchers, product managers, designers, and marketers need to know not just what happened through their analytics, but crucially, why it happened. An agile user research platform that can be localized to any language, in any country, is a crucial ingredient for their user experience toolkit.
About Userlytics Corporation: Headquartered in Austin, Texas with subsidiaries in Europe, Userlytics is a global leader in innovative user experience research platforms. Analytics tells you what, Userlytics tells you why.