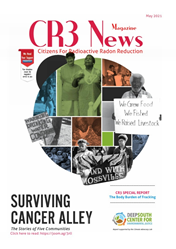 "We tested families in fracking country for harmful chemicals and revealed unexplained exposures, sick children, and a family's 'dream life' upended." ... Kristina Marusic
WATERLOO, Ill. (PRWEB) May 14, 2021
Trail markers help hikers follow a given path. They indicate things such as the beginning and end of a trail, a change of direction, or an intersection. Cancer journeys are viewed the same way. Future cancer outcomes will be dependent upon individual journeys and markers we leave behind. Traveling through the pandemic provided greater knowledge of what it takes to survive and how important healthy living is to our entire existence. As the world hunkers down and reimagines the future, many are feeling an overwhelming need to do something. The pandemic effect has brought about a new way of thinking about our life choices.
During "Multiple Chemical Sensitivity Awareness Month," Citizens for Radioactive Radon Reduction (CR3) dedicated its medical issue to "Surviving." "We might know the cure, but we do not always know the cause! The May issue provides insight into participants engaged with the interlocking chemical crises that threaten our future: from the current pandemic to biomarkers, to climate shifts." Jackie Nixon, CR3's publisher stated. "This publication offers a series of investigations into the world of people trying to survive and how they are surviving environmental concerns attacking their health daily."
The fights to improve lifestyles inspired a global community of people who are helping their localities such as Cancer Alley, Louisiana which the Centers for Disease Control consistently ranked as one of the nation's highest rates of cancer, or the investigation involving a year of testing the urine of area families in Southwestern Pennsylvania and exposing the body burden of shale gas development which provided new insights in times of profound change.
"There's a lot of sick and vulnerable people in our community," says Bridgette Murray, retired nurse and resident of Pleasantville LA who founded Achieving Community Tasks Successfully (ACTS) in 2012. "The disparities existed before COVID and will still be there after unless action is taken to improve the quality of life for all citizens."
These issues shed light on the link between different environmental variables that influence the cancer journey and help people understand their patient outcomes. People are not only dedicated to being a survivor but to "surviving."
CR3 News Magazine: 2021 VOL 3: MAY - MEDICAL ISSUE: SURVIVING
Direct Link:https://joom.ag/BV9I
CR3 News Magazine Newsstand: https://newsstand.joomag.com/en?q=CR3+News+Magazine
Facebook: https://www.facebook.com/citizens4radonreduction.org
#CitizensForRadioactiveRadonReduction #CR3NewsMagazine #LungsWorkFromHome #f(eD)>>f(C,R,M)