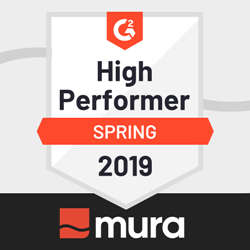 In an age where customer experience rules the day, it's a great validation of our mission to create Flow for the Content Managers, Marketers and Developers that use Mura to deliver the digital experience to their customer. -Sean Schroeder, CCO, Blueriver
SACRAMENTO, Calif. (PRWEB) April 09, 2019
Mura, the Digital Experience Platform and Headless CMS, today announced that it has again been recognized as a High Performer for the 10th straight quarter for web content management, including being named the leader in both "Estimated ROI" and "Users Most Likely to Recommend" for enterprise-level companies by G2 Crowd.
To be included in the G2 Crowd's rankings, web content management products must have received a minimum of 10 reviews/ratings, high customer satisfaction scores based on user reviews, and market presence.
"It's always an honor to be recognized by G2 Crowd. In an age where customer experience rules the day, it's a great validation of our mission to create Flow for the Content Managers, Marketers and Developers that use Mura to deliver the digital experience to their customer."
Mura has received more than 70 validated user reviews on G2 Crowd, with customers consistently giving the platform high marks for "Ease of Use," "Ease of Setup," "Ease of Admin" and "Ease of Doing Business With." Mura has also been recognized by G2 Crowd on its Results and Implementation Indexes," second only to Wordpress, and just barely at that.
G2 Crowd scores products and vendors based on reviews gathered from their user community, as well as data aggregated from online sources and social networks. With over 45,000 software companies on G2 Crowd, Mura's continued recognition is an exceptional achievement and one that can only be earned through the endorsement of its users.