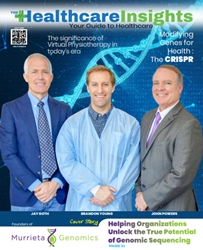 Our management team and advisory board is dedicated to launching the next great genomic companies.
MURRIETA, Calif. (PRWEB) July 29, 2020
Murrieta Genomics was recently named as a "company to watch" by The Healthcare Insights, a medical publication that discusses developments in medical technology and treatment for better global health in its July 2020 issue.
Murrieta Genomics was selected as "The Most Influential HealthTech Company to Watch in Genomics Solutions" vertical due to the valuable contributions the company is making in this niche. For a digital copy of the story, click here.
"It is a great honor to be selected by The Healthcare Insights team," stated Jay Goth, CEO of Murrieta Genomics. "We are a young company but making strides in impacting the genomic space by offering startups in this industry the sequencing and sector knowledge they need to develop their proof of concept. Our management team and advisory board is dedicated to launching the next great genomic companies."
The print magazine reaches out to over 72,000 subscribers across the United States and Canada. The magazine's mission is to help readers identify the companies that are bringing reliable and innovative solutions to the healthcare sector.
The July issue features the "20 Most Advanced Healthcare Tech Companies to Watch in 2020" that have pushed the envelope of the healthcare industry with their inspiring ideas and advanced health care solutions.
The magazine contains thought-leadership articles and insights of healthcare experts, doctors, directors of research and development about the advancements in the healthcare sector over the past few years. Subscribers include CIOs, CTOs, Chief Scientific Officers, VPs for Manufacturing/Clinical Research/Clinical Trials/Drug Discovery, Head of Clinical Research, and other technology buyers and leaders.
About Murrieta Genomics
Murrieta Genomics provides access to next generation sequencing technology for researchers in the health, veterinary, agriculture, forensics and direct to consumer industries. The company is a true business incubator, offering mentorship and guidance from both the scientific and business perspective to aspiring genomic-related entrepreneurs. The founders of Murrieta Genomics have extensive background in business, finance, science and technology. They are supplemented with a prestigious advisory board from both business and science. The company provides Next Generation Sequencing (NGS) services, hands-on consulting, review, appraisal and guidance. In addition, it provides help with company value propositions and potential seed funding support to qualified incubator graduates. For more information visit http://www.murrietagenomics.com.
Murrieta Genomics is part of the Murrieta Innovation Center, a RESI Tech Hub dedicated to supporting life science companies. The Innovation Center has medical device, therapeutic, software, clinical research and of course genomic companies that are working hard to advance new ideas and innovations that can impact the world in a positive way. The Center is also a resource for all types of local startup companies, offering services and workshops from a local SBDC, several veteran organizations, a SCORE branch and more.