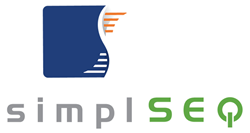 We've taken a Six-Sigma approach to library preparation eliminating error prone steps to streamline QA/QC and turn-around time.
MURRIETA, Calif. (PRWEB) November 10, 2021
Murrieta Genomics is pleased to announce that U.S. Patent and Trademark Office (USPTO) has issued a Notice of Allowance for its subsidiary simplSEQ' s patent application No. 17/331,532 for certain claims related to the isolation and immobilization of nucleic acids and uses thereof. This novel approach to isolation of nucleic acids in a biological sample by enzymatic tailing to the 3' end and attaching to a solid support offers several advantages over the current methods employed by laboratories worldwide.
There are two key advancements from this to-be-issued patent. The first is having the 3' end of nucleic acid strands attached to a solid surface without size bias. This allows laboratories a new level of flexibility and options for molecular applications. The second key attribute is the ability to create high fidelity copies of the full length attached DNA and RNA. Researchers and clinicians can now analyze specific segments of the DNA without depleting the original source material. This provides the opportunity to re-interrogate additional genomic regions as needed or share copies of the input material they are analyzing with other labs.
The simplSEQ attached nucleic acids can be used directly in standard PCR and NGS based assays and are platform agnostic.
"We are developing a number of applications based upon this technology," stated Brandon Young, inventor of the to-be-issued patent and Chief Science Officer of simplSEQ. "We have already filed an additional patent application based on our core technology and have several more in process. The more we work with this technology, the more applications and advantages emerge. We are now working with several outside labs to explore further innovations based on our patented technology."
John Powers, CEO of simplSEQ, said that the company is in the process of manufacturing its first set of kits to begin commercialization. "We've taken a Six-Sigma approach to library preparation eliminating error prone steps to streamline QA/QC and turn-around time. We will continue to work with collaborating labs to fine tune our kits and get external data for validation," he stated. "We anticipate having kits ready for commercial use in early 2022."
"I am constantly having conversations with medical and technology colleagues about our process and how it can impact medicine," said Dr. John Spinosa, Chief Medical Officer. "I am at the whiteboard on a daily basis thinking of new things that can be done and get more excited about the potential of this every day."
About Murrieta Genomics
Murrieta Genomics provides access to next generation sequencing technology for researchers in the health, veterinary, agriculture, forensics and direct to consumer industries. The company is a true business incubator, offering mentorship and guidance from both the scientific and business perspective to aspiring genomic-related entrepreneurs. The founders of Murrieta Genomics have extensive background in business, finance, science and technology. They are supplemented with a prestigious advisory board from both business and science. In addition to low-cost incubation, the company provides hands-on consulting and will provide seed funding to qualified incubator graduates and connections to next-stage funders. For more information visit http://www.murrietagenomics.com.
About simplSEQ, Inc.
simplSEQ fuels precision medicine by enabling medical researchers and clinical laboratories to isolate and analyze a person's genetic and other cellular content to better understand health and disease. This patented technology platform addresses known issues with standard methodologies for nucleic acid purification and serves as the basis for other applications. The simplSEQ cNAPI (circulating nucleic acid purification and isolation) kit will be the first commercial product. For more information visit https://www.simplseq.com