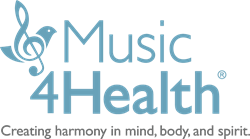 We want to give people a safe place to experience different healing modalities that promote inclusivity and diversity, where everyone is welcome. -Johnna Jonasson President & Co-Founder of Music4Health
REDLANDS, Calif. (PRWEB) May 27, 2021
Music4Heath, a Redlands, California-based health and well-being organization has recently expanded its programming to all age groups, including writing and art workshops that are scheduled for the month of June. 
In expanding its program to all healing arts, Music4Health is offering writing workshops both virtually and in person. The two-hour workshop guides participants through timed writing prompts aimed at evoking written pieces that explore their own personal story or journey; participants are then given the option to share their stories. The group discussions go over obstacles that are faced when writing personal stories, along with ideas and strategies for cultivating a healthy writing practice while building community with each other. Also offered is "Writing to Connect & Connecting to Rebuild," a men's writing workshop dedicated to the specific and unique challenges that men face in their journey to mental health. Registration for all writing workshops is now available at music4health.org/writing-workshops.
Together with the writing workshops, Music4Health will also offer the "Post-Covid Peace and Healing Through Art" workshop. This program is offered for four consecutive days with two-hour sessions and invites participants to explore a journey of peace and healing through creative arts by transforming the turbulent aspects of life into peaceful ones. Participants will use creative methods to consider their challenges and learn to address and overcome them through the therapeutic and healing aspects of art, peace and transformation. Prior experience in art is not required. Registration for the art workshop is available at music4health.org/art-workshops.
As Music4Health expands its services to all ages, the goal for the future is to collaborate with partners to create a physical center in Redlands, California and establish a large facility that will provide comprehensive and diverse mental health support and adjunct therapies, including animal-assisted therapy on land outside the city.  
Johnna Jonasson, president and co-founder of Music4Health, has a deep and personal connection with trauma and adversity, having experienced physical and mental abuse during childhood. Her journey of battling depression and anxiety, discovering healing resources that helped her, along with her successful career in health care has compelled her to create a center that incorporates a wide variety of healing practices rooted in bringing together physical medicine, mental health, and various adjunct therapies. 
"We want to give people a safe place to experience different healing modalities," says Ms. Jonasson. "Today's health care system is not created to ask, listen, and respond. People often have to visit different places, see different types of clinicians or specialists to try and achieve healing, and all too often they give up because it is incredibly time-consuming, difficult and costly to find resources that help. That's what we want to work to improve." 
Still in the early planning stages, the basis for the future Center for Well-Being is bringing together physical and mental health providers as well as a wide variety of adjunct therapy healing modalities in an inclusive trauma-sensitive environment. The goal is to provide people a safe space to experience different healing modalities, promoting inclusivity and diversity where everyone is welcome. Contributors to the future center include Wellhausen Institute, Morningstar Neurofeedback, Kaiser NeuroMap Institute, Yogamour, Harmony Chiropractic, Equus Medendi, different self-care providers, artisans, and other physical and mental health professionals.
Music4Health's writing and art workshops teach and encourage the healing that can come from putting thoughts and feelings on paper and art. Writing and art workshops are offered in various formats and themes to encourage connection and community among participants.  
Registration for Music4Health's virtual and in-person writing workshops is now open at music4health.org/writing-workshops. Virtual writing workshops for men and women will be held on: June 10 and 13 from 5:00 p.m. - 7:00 p.m. (women) and July 15 and 29, at 5:00 pm. to 7:00 p.m. and July 18 and August 1 from 1:00 p.m. to 3:00 p.m. (men).
In-person writing workshops for women will be held on June 9, 16 and July 7, 14 from 6:00 p.m. to 8:00 p.m. Saturday workshops will also be available on July 10, 17, 24, and 31 from 4:00 p.m. to 6:00 p.m.
To register for Post-Covid and Healing Through Art, visit music4health.org/art-workshops. Sessions are available from June 16, 17, 18, 19; July 8, 9, 10, 11; July 15, 16, 17, 18; and August 5, 6, 7, 8 all from 7:00 p.m. to 9:00 p.m. These workshops are all in-person and each session lasts four consecutive days for two hours each day.
All times are Pacific Daylight Time (PDT)
About Music4Health
Music4Health is a non-profit health and well-being organization located in Redlands, California. It is dedicated to building resiliency, unity, and well-being. It was created in 2017 by Johnna Jonasson and Kelli Schofield with the original purpose of teaching students from Kindergarten through 12th grade about resilience, self-regulation, and coping skills through music. Today, Music4Health has expanded to all ages with the plan to build a trauma-sensitive healing campus.  More information about Music4Health can be found at Music4Health.org.