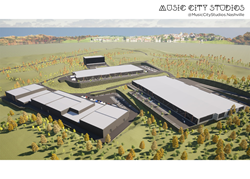 "The goal of Music City Studios is to act as a platform and catalyst for more world-class production coming to and being created out of Nashville."
NASHVILLE, Tenn. (PRWEB) October 27, 2021
Today, Music City Studios - the first-of-its-kind media campus in North America blending multiple creative industries - announced its plans to break ground in the Metro Nashville area. Located in Hendersonville, Music City Studios is a 47+ acre creative campus dedicated to the future of content, production, film, live touring, broadcast, virtual production, and technical and business support for Metaverse-based businesses.
This master-planned campus will offer 200,000+ square feet of state-of-the-art sound stage space and 500,000+ square feet of space dedicated to tenants servicing the film, live music, broadcast, Metaverse, and media production businesses. As of today, the planned facilities are more than 60% preleased and development is fully funded. The campus will help foster the growth of Nashville's present and future creative communities. In the next five years, the campus projects the creation of more than 800 jobs, either through expansion, relocation, or new directly because of production and facility capacity. Capital investment for the development is currently set at more than $100,000,000.
The Music City Studios team identified Middle Tennessee, and specifically Hendersonville, as the ideal location for this creative campus because of the fast-growing local economy, progressive city and county leadership, available housing and infrastructure, proximity to the airport, and significant entertainment and creative arts history.
According to Mayor Jamie Clary, "Hendersonville has been the home of Johnny Cash, Conway Twitty, Taylor Swift, and dozens of other globally known musicians. The Oak Ridge Boys and Ricky Skaggs are current residents. Music City Studios and Monolith Studios could not select a more appropriate location. Hendersonville is a growing community of professionals who bleed creativity. The entertainment infrastructure needed for a film and music facility is already in and near Hendersonville. Music City Studios and their tenants will do well here."
The anchor tenant and partner in Music City Studios is Monolith Studios. Monolith Studios is a full-service virtual production and content creation studio, specializing in proprietary LED volume architecture and content-to-display systems and services. Monolith Studios offers a turn-key solution for Virtual Production Stage architecture, design, buildout and LED stage control services for film, television, brand advertising, and live events. This will be Monolith's first Tennessee office.
Monolith CEO Josh Furlow is bullish about the work that will be produced out of the Hendersonville campus. "Monolith is expanding its footprint around the world and Tennessee is a critical creative hub for our business. For a city and region that has been built on the entertainment industry, we look forward to creating the 21st century digital campus to help support live entertainment merging with the digital future".
David Bennett, former Executive Director of the Tennessee Film, Entertainment and Music Commission and Tennessee film industry stalwart, will serve as Vice President of Business Development for Monolith Studios, Inc. Most recently, Bennett served as Director of Business Development of Broadcast, Film & Television at PRG.
According to Bennett, "The creative arts in film, television and music have never been more closely related than they are now. It is time for a dynamic community focused on multiple disciplines and cutting-edge technology to be established. I am excited and honored to be a part of the team bringing Music City Studios and virtual production industry leader Monolith Studios to Tennessee."
The Music City Studios Campus will be led by native Nashvillian and live touring industry veteran David Buttrey. Buttrey's extensive experience includes producing the award-winning Tortuga Music Festival in Fort Lauderdale, Enchant Christmas' multi-city stadium shows, Afropunk Music Festival, and bespoke entertainment events in India in conjunction with Indian Parliament member, Rajeev Chandrasekhar. Buttrey is thrilled by the opportunities this new campus is sure to bring to metro Nashville. As a young man, Buttrey was frustrated by the lack of open doors and opportunities in the local film and touring industries, so he moved to New Orleans and abroad for production work. "I don't ever want another young person to feel like they can't build a life and career here in Nashville. With this new campus, no Nashville-based artist or crew member will ever have to leave the metro area to rehearse for a global concert tour, produce a movie, or film a commercial. I used to have to travel to Los Angeles, New York, and overseas for global-level production work. The goal of Music City Studios is to act as a platform and catalyst for more world-class production coming to and being created out of Nashville."
Music City Studios plans to break ground by the end of the year and will be making tenant announcements through Q1 of 2022. Construction is slated to be completed by the end of Q1 2023 with the Sound Stages opening Q4 of 2022. Due to the overwhelming demand of projects, Monolith has set up a strategic location, currently partnering with Skyway Studios for immediate virtual production projects. Due to substantial project demand, Music City Studios is already looking to expand its footprint in the region and plans to acquire additional space in the coming months.
About Music City Studios: Music City Studios is a campus built for music, film, broadcast, and Metaverse industries. We believe that co-locating world-class companies across multiple disciplines will have a compounding effect, not only for tenants of the campus and the productions they serve but also for Nashville's and Tennessee's creative economies. This is a campus designed by industry lifers using a tech-forward, data-forward, collaboration-forward approach to making films, tv shows, commercials, music videos, tour rehearsals, video game development, and live broadcast. For more information, visit MusicCityStudios.com.
Website: MusicCityStudios.com
Instagram: @MusicCityStudios.Nashville
Monolith Studios Website: MonolithStudios.com
Monolith Studios Instagram: @monolithvirtualproduction