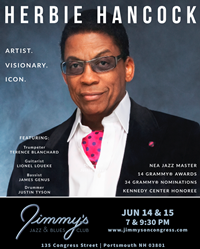 "I am thrilled to be able to finally make it to Jimmy's Jazz & Blues Club," said Hancock in a statement. "It's deeply important to me that rooms like Jimmy's continue to exist around the world."
PORTSMOUTH, N.H. (PRWEB) May 25, 2022
Music Icon HERBIE HANCOCK visits Jimmy's Jazz & Blues Club at 135 Congress Street for Four Historic Performances on June 14 & 15 at 7 and 9:30 P.M.. Herbie Hancock will be joined by 5x-GRAMMY® Award-Winning Trumpeter Terence Blanchard and Acclaimed Jazz Guitarist Lionel Loueke as well as Bassist James Genus and Drummer Justin Tyson.
Jimmy's Jazz & Blues Club is honored to welcome legendary musical force Herbie Hancock for these two nights—June 14 and 15 — in which he will perform four shows (an early and late performance both nights). The four shows mark one of Hancock's first club dates in years, and one of only three stops in the Northeast this summer. The Jimmy's Jazz & Blues Club shows will come on the heels of performances at the Kennedy Center in Washington, D.C.
Hancock, who has been bringing his musical prowess to stages worldwide since 1961, has not done a club show in a dozen years, which adds even more magic and prestige to these performances.

"I am thrilled to be able to finally make it to Jimmy's Jazz & Blues Club," said Hancock in a statement. "It's deeply important to me that rooms like Jimmy's continue to exist around the world."
Hancock—a 14-time GRAMMY® Award Winner— now in the sixth decade of his professional life, remains where he has always been: at the forefront of world culture, technology, business, and music. In addition to being recognized as a legendary pianist and composer, Herbie Hancock has been an integral part of every popular music movement since the 1960's.
As a member of the Miles Davis Quintet that pioneered a groundbreaking sound in jazz, he also developed new approaches on his own recordings, followed by his work in the 70's -- with record-breaking albums such as "Headhunters" -- that combined electric jazz with funk and rock in an innovative style that continues to influence contemporary music. "Rockit" and "Future Shock" marked Hancock's foray into electronic dance sounds; during the same period, he also continued to work in an acoustic setting with V.S.O.P., which included ex-Miles Davis bandmates Wayne Shorter, Ron Carter, and Tony Williams. Throughout his explorations, he has transcended limitations & genres while maintaining his unmistakable voice.
Tickets for these soon to be legendary performances featuring HERBIE HANCOCK are available on Ticketmaster and on the Jimmy's Jazz & Blues Club Website.
Jimmy's Jazz & Blues Club has also teamed up with Marriott's Wentworth by the Sea for an all-encompassing VIP package that includes lodging, transportation to and from the shows, dinner, and of course, the Wentworth's wonderful breakfast options. For more information about the package and to reserve a spot, call the Jimmy's Jazz & Blues Club Box Office at 1-888-603-5299 or email boxoffice@jimmysoncongress.com.
Jimmy's Jazz & Blues Club's 2022 Schedule of Shows currently includes 7 NEA Jazz Masters, 33 GRAMMY® Award-Winning Artists, 32 Blues Music Award-Winners, and a comprehensive list of talented musicians with 450+ GRAMMY® Award Nominations amongst them. Visit Jimmy's Online Event Calendar for Jimmy's Jazz & Blues Club's 2022 Schedule of Shows. Subscribe to Jimmy's Email Newsletter to stay informed on new jazz and blues artist announcements, tickets, special offers, Jimmy's Sunday Jazz Brunch, and much more.
ABOUT JIMMY'S JAZZ & BLUES CLUB
The mission of Jimmy's Jazz & Blues Club is to provide guests a one-of-a-kind, world-class experience featuring serious jazz and blues music served with exceptional southern-inspired cuisine. Jimmy's Jazz & Blues Club features a spectacular and visually breathtaking environment engineered to deliver the highest quality acoustics while utilizing state-of-the-art production, sound and lighting technologies. Jimmy's Jazz & Blues Club is located within a beautifully restored 1905 building at 135 Congress Street in the heart of historic downtown Portsmouth, New Hampshire. For more information visit http://www.jimmysoncongress.com or follow us on Facebook at https://www.facebook.com/JimmysJazzBlues.
PRIVATE EVENTS AT JIMMY'S JAZZ & BLUES CLUB
An architecturally breathtaking center of arts and culture in the heart of historic Portsmouth, New Hampshire, Jimmy's Jazz & Blues Club offers a rare and spectacular venue to host important corporate functions, weddings, intimate or large-scale social gatherings, private parties, and memorable celebrations. The team at Jimmy's Jazz & Blues Club has put their heart and soul into creating a spectacular full-service event space with new state-of-the-art production, sound & lighting technologies delivered with outstanding next-level culinary experiences. Our high-touch approach with professional and experienced event staff ensures that everything is tailored to exceed your expectations. To start a conversation about hosting your event at Jimmy's Jazz and Blues Club, please call us at 1-888-603-5299, email us at events@jimmysoncongress.com, or fill out The Jimmy's Private Event Contact Form.