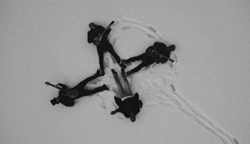 LOS ANGELES (PRWEB) November 22, 2019
To accompany their latest anthem "Mad Bull," a political single that takes aim at the current political climate, Dirty Snowman Society has released a brand-new music video on YouTube.
The video comes behind the release of the single itself and, just like the song, takes you back to the times when music was created to feed our souls. The lyrics take a look at modern-day issues and use poignant lyrics and old school instrumentals to usher their audience into pressing contemporary issues.
"Mad Bull" dives into hard-hitting instrumentals right off the top and is a passionate track matching its powerful lyrical content. The song's politically critical lyrics are sure to make anyone pay attention to the band's message. "Mad Bull" enthusiastically expresses the frustration many people have about the current political climate. It's clear that the Dirty Snowman Society is not afraid to speak out.
You can watch the new video for "Mad Bull" on YouTube and listen to the single on all major platforms, including Spotify and Apple Music. Dirty Snowman Society also has several upcoming events, including a billboard in Times Square and a 5-track EP. Follow them on Instagram, Twitter, and Facebook to stay updated.
About Dirty Snowman Society
Dirty Snowman Society is a rock band based in Copper Mountain, CO. The four-piece band consists of Frank Costantini on vocals, drums and percussion, Jonnie Law on lead guitar, Patrick Linfante on bass and Chris Todoroff on guitars and percussion. The band came together from very diverse backgrounds, they've held jobs such as Emmy winning TV director and best selling author, a touring metal band member, ski and surf instructor, and successful lawyer. The glue that holds them together is the desire to make the kind of classic hard rock that inspired them to become musicians. Follow Dirty Snowman Society on Facebook for more information.