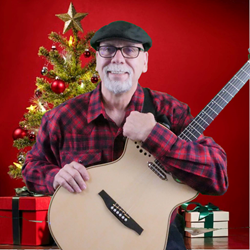 As you grow older, I believe everyone deep down really only wishes for one thing for Christmas, to bring all their family and friends together in one place – home."
PORTLAND, Ore. (PRWEB) November 18, 2019
On November 29th, 64-year-old software engineer Robert Armand will release his first Christmas song ever. The musician who once played the opening act for Steppenwolf, the famous Canadian rock band, wanted to write "I Just Can't Wait Until Christmas Comes Along" for some time. The song will be released on Pandora, ITunes, Apple Music, Spotify, and Google Play by CD Baby.
In his Portland, Oregon studio, Robert began to ponder writing a fun, yet meaningful song that would help folks who were separated from loved ones by many miles to cope with the situations they faced. Armand says, "I see some folks growing up in situations where all their kids have grown and now live in places all over the globe. I guess I wrote this song as a way to cheer folks up. As you grow older, I believe everyone deep down really only wishes for one thing for Christmas. To bring all their family and friends together in one place – home."
"I Just Can't Wait 'Till Christmas Comes Along" is two minutes and 38 seconds in length. The song features a nice Christmas spirit and upbeat tempo. Even his wife, Heather, was given a part in the making of the song, playing the sleigh bells for the recording. The 64-year-old song writer lives in Columbia Gorge, just outside Portland, Oregon. The CEO of the independent record label David & Goliath Media Publishing, member of ASCAP, Joseph A. Camerieri said, "I like the song, very meaningful very relevant to how we all feel around Christmas time, a sentimental song."
As for Armand's early influences, John Denver, Jim Croce, and James Taylor head the list. But Robert says "I also listened to Keb Mo and Jack Johnson," but he went on to concede how the Eagles, America and Crosby Stills Nash and Young also played a pivotal role in providing inspiration. Robert borrows from several music genres when he sits down to write. The song can be heard on Spotify on November 29th. Connecting with Robert Armand can be done on his Facebook page.
Armand hopes to one day join other famous Christmas classics, like the "Christmas Shoes Song" or Adam Sandler's "Chanukah Song," with an unforgettable work that generations will listen to for years to come. Once the song is released on Black Friday near the end of November, listeners will surely be in for a treat that rouses some genuine nostalgia -just in time before December 25th.