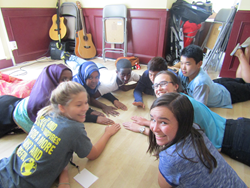 Our work to cultivate understanding and empower youth of diverse faiths and cultures through creative collaboration is vital - because more peace and understanding yields less extremism and violence. This is why I founded Music in Common" - Todd Mack
Sheffield, MA (PRWEB) August 16, 2017
A FEDERAL GRANT AWARDED – THEN TAKEN AWAY.
This past January, Music in Common was awarded a $159,000 grant from the U.S. Department of Homeland Security's Countering Violent Extremism (CVE) program. The grant was to support Music in Common's work empowering young people of diverse faiths and cultures to overcome divides and discover common ground through collaborative songwriting and multimedia. Then, on June 26th, the department now under the Trump administration rescinded the grant.
OUTREACH WORKS. HERE IS PROOF.
Music in Common's work – which has engaged and served diverse populations across the US and around the world – is vital. Research proves repeatedly that increased mutual understanding yields less extremism and less violence. In fact:

First-hand encounters deepen understanding of other people's subgroups (race, religion, ethnicity, sexual orientation, etc.) and reduce stereotyping.
Collaborative projects increase mutual respect for others and their subgroups
Promotion of conflict resolution and storytelling among communities of different backgrounds fortifies young people's abilities to address and mitigate hatred.
Music with positive messages of co-existence and inclusion helps prevent disaffection and reconnects individuals and groups at risk of extremist recruitment.
>90% of MIC program participants report new learning about different faiths and cultures and resolve to reject stereotyping and increase respect for others, going forward.
FOUNDED IN RESPONSE TO VIOLENT EXTREMISM.
In 2002 Wall Street Journal reporter and musician Daniel Pearl was kidnapped and brutally murdered by extremists in Pakistan. In response, Pearl's friend and bandmate, Todd Mack, was inspired to honor the life of his friend while repudiating the terrorism that killed him. Mack recognized the ability of music to bridge differences and overcome divisiveness. He founded Music in Common to take action against hate, making a positive difference for hundreds of youth and their communities worldwide.
THE CVE GRANT REALLOCATION STORY MUST BE TOLD.
Eleven organizations – and more than four million dollars in promised grants – are being impacted by the Trump administration's reallocation. For Music in Common, the loss of promised funding will have a devastating effect on its programs and the youth they serve. The grant was to cover immediate programming, already underway. Now, essential operational funds are gone. People can respond to MIC's urgent crowdfunding campaign at http://www.musicincommon.org/urgencyfundraiser.html
Music in Common Founder and Executive Director, Todd Mack, is available for interview, commentary and subject matter expertise. Follow Music in Common at http://www.facebook.com/musicincommon
---------------------------------------------------------------------
FACT SOURCES
Allport, G. W., The Nature of Prejudice, Cambridge, MA: Perseus Books.
Aronson, E. (n.d.). "Jigsaw Basics," The Jigsaw Classroom (http://www.jigsaw.org), The Scocial Psychology Network, 2000.
Weine, Stevan, and Osman Ahmed. "Building Resilience to VE Among Somali‐Americans in Minneapolis‐St. Paul," Final Report to Human Factors/Behavioral Sciences Division, Science and Technology Directorate, U.S. Department of Homeland Security. College Park, MD: START, 2012.
Lemieux A. "The Role and Impact of Music in Promoting (and Countering) Violent Extremism" in White Paper in support of counter-terrorism and counter-WMD, Air Force Research Lab & US State Dept, 2011.
Music in Common participant surveys, 2014 – 2017.