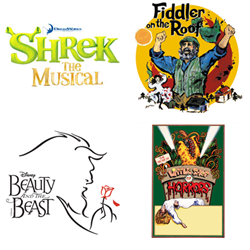 'With Scene Partner, we're now able to use state-of-the-art technology to help actors and directors maximize the rehearsal process by learning their lines...'- John Prignano, Senior Operations Officer of Music Theatre International
Norwalk, CT (PRWEB) March 27, 2014
Music Theatre International (MTI) and MyTheaterApps.com announce that, with their new partnership started last year, MTI's most popular titles are now available digitally on the Scene Partner® WebStore for use as a rehearsal tool in the Scene Partner App. Theaters and actors will be able to access MTI e-Scripts to memorize lines while mounting officially licensed productions.
According to John Prignano, Senior Operations Officer of Music Theatre International, "One of MTI's missions is the creation of memorable experiences for our customers by supporting and helping them during every stage of their theatrical journey. With Scene Partner, we're now able to use state-of-the-art technology to help actors and directors maximize the rehearsal process by learning their lines through an interactive app and really exploring an MTI script."
A selection of MTI's most popular musicals, now available for Scene Partner, can be found on the MTI Shop of the Scene Partner WebStore.
Theatres are able to rent multiple copies and distribute the e-Scripts to their casts during the term of performance licenses, through a secure, online theater library. Actors who are participating in MTI- licensed productions are able to rent a copy of the e-Scripts for their personal libraries as well. More information is available at http://www.scenepartnerapp.com.
With the Scene Partner® App, actors can divide their scripts by character, act and scene while taking advantage of interactive features such as the ability to record their lines or use computer voices for text to speech playback.
For more information about MTI and licensing, please call (212) 541-4684 or email licensing(at)mtishows(dot)com
About Music Theatre International
Music Theatre International (MTI) is one of the world's leading theatrical licensing agencies, granting schools as well as amateur and professional theatres from around the world the rights to perform the largest selection of great musicals from Broadway and beyond. MTI works directly with the composers, lyricists and book writers of these shows to provide official scripts, musical materials and dynamic theatrical resources to over 60,000 theatrical organizations in the US and in over 60 countries worldwide.
MTI is particularly dedicated to the idea of theatre as education and has created special collections for younger performers. The MTI Broadway Junior Collection® includes JR. titles, 60-minute musicals for performance by middle school children; and KIDS titles, 30-minute musicals for performance by elementary school children. MTI School Editions™ are musicals that have been annotated for performance by high school students, and the Theatre For Young Audiences (TYA) Collection are 70-minute musicals designed for adults to perform for children.
About MyTheaterApps.com:
MyTheaterApps.com is the developer of Scene Partner, an award-winning App for the iPhone, iPad and iPod Touch that helps actors learn their lines using their own scripts or by choosing from a growing collection of Publisher e-Scripts—the authorized Acting Editions designed specifically for use with Scene Partner. MyTheaterApps.com has e-Script agreements with Samuel French Inc., Dramatists Play Service, Music Theatre International and Theatrical Rights Worldwide.
Scene Partner merges text-to-speech software from the Acapela Group, voice recording and advanced algorithms to provide a unique and innovative tool for actors. It was chosen by BACKSTAGE as one of six essential technology tools for actors. At its launch Apple listed Scene Partner as "New and Noteworthy" on the home page of the App Store. Scene Partner has won multiple awards for design excellence and a 2011 Gold CQIA Innovation Prize.
Scene Partner has been featured in Variety, BACKSTAGE, Wall Street Journal Online, Stage Directions, Stage Magazine, SETC News and DRAMATICS Magazine.
"Scene Partner is incredibly intuitive and easy to use."
—BACKSTAGE
"...forget the highlighters, flash cards and driving friends and family crazy… get your download of SCENE PARTNER, and take preparing for that next role to a higher level."
—Stage Magazine
"…directors will love the program's library features."
—SETC News
PHOTOS AVAILABLE