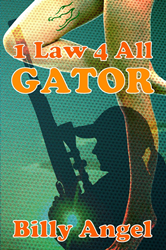 The reader is in for an emotionally enjoyable rollercoaster – think of TV's 'Friends' solving a mishmash of political scandals.
MAUI, Hawaii (PRWEB) October 15, 2020
'1 Law 4 All-Gator' by Billy Angel is the third political drama of the author's stimulating 1 Law 4 All series. 'Gator' presents the reader with a brilliant, unfiltered glimpse into how human nature and technology impact today's politics.
With nimble skill, Billy Angel's third book, '1 Law 4 All–Gator' explores the interactions surrounding America's electoral processes. Angel adds, "I enjoyed creating 'Gators' foreign gangsters. Experiences from my international travels helped me formulate their rationale and priorities when plotting to corrupt U.S. elections."
Angel's latest political corruption thriller focuses on an unstoppable voter fraud scheme enabled by two powerful, east coast congressional representatives. When asked what makes this book interesting, Angel smiles. "I'm not sure which was more fun, writing or reading 'Gator'. I love the fresh face 'Gators' characters paint on this uniquely incredible election hack."
Each '1 Law 4 All' character added his or her own spicy genius to 'Gator's plot. Mac, Jimmy, Kitiona, Carol, Juan and Ben formed the 1 Law 4 All Foundation with Angel's first political action drama, '1 Law 4 All'. Angel comments, "I know many readers will easily identify with one or more of these strong, colorful characters and their diverse backgrounds."
Billy Angel expresses his delight when discussing his original six, robust characters. Angel proclaims, "Our corruption fighters cover the personality spectrum. I had fun blending their backgrounds, individual traits and futuristic hopes into their reactions while being death targets for a wealthy international group of power brokers."
"I was challenged with inventing a computer hack on machines not connected to the Internet," Angel recalls. "But after consulting with several Silicon Valley engineers and programmers, my one-of-a-kind election hack materialized. Besides the hack, I know readers will find several innovative ideas woven into 'Gator's plot. The 1 Law 4 All gang details for the reader the engineering discoveries behind this never used, voter fraud scam."
Within Angel's creativity - investigating, solving and exposing political corruption mixed alongside everyday activities creates an enjoyable atmosphere for the reader. Carol and Kitiona's accessory shopping, Jimmy and Mac's sports bantering and Juan and Dominica's wedding/honeymoon situations all contribute too many light-hearted moments. Angel proudly proclaims, "The reader is in for an emotionally enjoyable rollercoaster – think of TV's 'Friends' solving a mishmash of political scandals."
'1 Law 4 All-Gator' video YouTube summary at https://www.youtube.com/watch?v=CnpA_UAHVpU&feature=youtu.be
'Gator' exposes the reader to the critical-thinking side of human nature. For example, Jimmy encourages the reader's problem-solving processes with his 'One World' observation to Mac. "There is no law for trying to dominate the world's economy. It's the HOW they try to dominate that needs investigating."
Angel's 1 Law 4 All series enlightens book lovers to the many facets of political corruption without condescending to the reader. The author's viewpoint is enhanced from years of political corruption analysis within his political blog, mythoughtsescape. https://mythoughtsescape.com/blog/
Angel's 'Gator' goes beyond gunfights, bombs and bloodshed to exposing depraved politicians. His central characters show a stylish level of humanity as Gator's suspense unfolds. The reader will fly like a guided missile to finish each addictive, emotionally charged chapter. Billy Angel's predicts, "After reading 'Gator', the reader will have a greater understanding of electoral susceptibilities with insights into human nature on both sides of the voter fraud issue."
'1 Law 4 All - Gator' by Billy Angel enlightens readers to the fact that elections can be the instrument of 'totalitarian seduction' if not corruption free.
Produced by Sunset Angel Productions, LLC