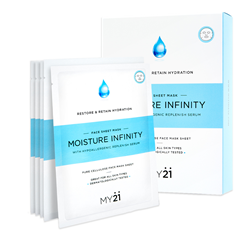 NEW YORK (PRWEB) January 30, 2020
MY21™ Face Sheet Masks
Selected for Official 62nd GRAMMY Awards® Gift Bag
Natural "Moisture Infinity" Tightens Skin, Reduces Fine Lines and Pores
For Skin That Rocks
Image: MY21™ / Official GRAMMY® Gift Bag: https://bit.ly/3ak7eID
The red carpet is out, and the GRAMMYs® are on! This year, face sheet masks are center stage as celebrity cult favorite MY21™, plays a starring role in the official 62nd GRAMMY® Gift Bag given to all Presenters and Performers.
Hosted by Alicia Keys and broadcast on CBS, among those receiving MY21™ Face Sheet Masks at the GRAMMY Awards® in Los Angeles will include: Camila Cabello, Cardi B, Dan + Shay, Shawn Mendes, Janelle Monae, Kasey Musgraves, Ariana Grande, Billie Eilish, Lizzo, Blake Shelton, Gwen Stefani, Demi Lovato, H.E.R., Jonas Brothers, and Bonnie Raitt.
Nominees for this year include: Beyonce, Taylor Swift, Post Malone, Lil Nas X, Lady Gaga, Lana Del Rey, Shawn Mendes, John Legend, Ed Sheeran, Cardi B, 21 Savage, Offset, Miranda Lambert, and many more.
MY21™ Moisture Infinity Face Sheet Masks were selected for their stand-out results, tons of natural antioxidants, and new sheet mask cotton BioCloud™ technology. This breathable tissue-like fabric transfers 13 times its own weight directly to the skin. It also stays on even when multi-tasking.
The unique made-in-Korea masks not only nourish, smooth, and tighten (up to 24 percent), they dramatically reduce pores (up to 78 percent). The result? Great skin for every occasion and for selfies that rock, as well as for pre-makeup for events and shoots.
A go-to red carpet favorite for Hollywood makeup artists and their A-list celebrity clients, MY21 is natural and hypoallergenic. Biodegradable MY21™ sheet masks are dermatologist-tested, use no artificial fragrances or parabens, and are entirely free of harsh chemicals. As a result, they work for every skin type - including sensitive. They are also animal cruelty free.
Moisture Infinity features skin nutrients and antioxidants including hyaluronic acid, and multiple moisture-rich succulents, including aloe vera leaf juice and purslane. Hydrolyzed collagen and raspberry ketone are added for increased elasticity, along with lavender, chamomile, and bergamot oils, lustre-restoring lemon peel oil, and more, for their anti-inflammatory effects.
The complete range of MY21™ luxury sheet masks include: Moisture Infinity (to restore and retain hydration), Repair Infinity (to smooth and soothe imperfections), Youthful Infinity (age-defying and firming), and Renew Infinity (to rejuvenate and brighten).
In celebration of the 2020 GRAMMYs® MY21 will offer all Face Sheet Mask Packs at 2 for 1 pricing during GRAMMY Week. This will include MY21™ Face Sheet Masks currently priced (10 for $40.00) (Discovery System Pack: 2 for $8.00 / Trial Pack: 4 Different Masks for $10.00) available only at http://www.my21mask.com. Website promo code: GRAMMY2020 for BOGO on all products excluding subscriptions.
MY21 is also available at http://www.amazon.com and can also be found on
Facebook: @my21mask and Instagram: @my21mask.
About MY21™:
MY21™ Beauty specializes in innovative, dermatologist-tested and approved skincare products from Seoul, South Korea - a major 21st century beauty industry capital. Based in Las Vegas, Nevada, the brand's focus is on luxurious, highly effective, advanced K-Beauty skincare, with high concentrations of potent natural, nutrient-dense ingredients, as well as innovative application technologies.
About the Recording Academy®:
The Recording Academy represents the voices of performers, songwriters, producers, engineers, and all music professionals. Dedicated to ensuring the recording arts remain a thriving part of our shared cultural heritage, the Academy honors music's history while investing in its future through the GRAMMY Museum, advocates on behalf of music creators, supports music people in times of need through MusiCares, and celebrates artistic excellence through the GRAMMY Awards—music's only peer-recognized accolade and highest achievement. As the world's leading society of music professionals, we work year-round to foster a more inspiring world for creators.
For more information about the Academy, please visit http://www.grammy.com. For breaking news and exclusive content, follow @RecordingAcad on Twitter, "like" Recording Academy on Facebook, and join the Recording Academy's social communities on Instagram, Tumblr, and YouTube.