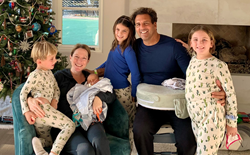 The original My Brest Friend pillow was such a game changing product and the design has really stood the test of time because it provides unprecedented support.
SAN FRANCISCO (PRWEB) February 02, 2021
My Brest Friend, the world's leading breastfeeding support product, celebrates its 25th anniversary with the launch of The Super Deluxe 25th Anniversary Edition Nursing Pillow. My Brest Friend is known for its patented wrap-around nursing pillow design, which provides maximum support and comfort to nursing moms and babies. 25 years ago, My Brest Friend set out to reimagine nursing pillow design, and to develop a product that truly addressed the challenges of breastfeeding – to provide support that enabled moms to breastfeed more comfortably and focus on bonding with baby. It quickly became the #1 recommended nursing pillow of lactation consultants and the top choice for birthing hospitals. After 25 years of supporting many millions of nursing mothers, in more than 35 countries, My Brest Friend is introducing an upgraded nursing pillow with even more support and additional features that nursing moms will appreciate.
"Breastfeeding can be very challenging for new moms; I knew that when I set out to design a better nursing pillow and now I understand that even more after welcoming my fourth child just this past month. From the start I couldn't understand why there wasn't a product that better supported women during this critical time," says Andrew Zenoff, CEO and founder of My Brest Friend. "The original pillow was such a game changing product and the design has really stood the test of time because it provides unprecedented support. We thought about all the things that nursing moms needed and designed it to truly help them. I had always been an inventor at heart and wanted to design products that truly helped people, and My Brest Friend was just that. At the time, People magazine even called me 'Mr. Mom' because of the impact the pillow was having."
My Brest Friend is the only nursing pillow designed to perfectly position the baby for latch-on while supporting mom's body where she needs it most. When mom is comfortable and at ease while breastfeeding, the result is a healthy and happy baby. No other nursing pillow on the market is designed to meet the specific needs of the breastfeeding mom and baby in the same way. It has remained the industry leader because it is more supportive than anything else on the market and moms are the first to tell other expecting parents that it is a must-have product.
The new 25th Anniversary My Brest Friend Super Deluxe nursing pillow offers enhanced support in all the right places to help ensure mom's maximum comfort, ideal positioning and breastfeeding success. The design incorporates years of feedback from medical and lactation professionals as well as breastfeeding women around the globe. The brand's patented wrap around design secures the nursing pillow to the body, helping mom and baby maintain ideal positioning and latch. This nursing pillow also provides back support, unlike any other pillow on the market. The increased thickness of the front cushion makes it easy to comfort baby and lift baby closer to the breast, so mom doesn't have to hunch over. It also includes thoughtful design features such as a right/left side tracker to remind mom which side to start feeding on next time, Velcro and silent release buckle for easy one hand use, inner waterproof cover for easy cleanup and attached pouch to stash burp clothes, phones or anything that mom might want in arms reach.
The new Super Deluxe My Brest Friend Nursing Pillow is available now in extras-soft plush fabric in both platinum and gold color options. Exclusively on Amazon.com, available nationwide at select retailers soon, MSRP $58.95.