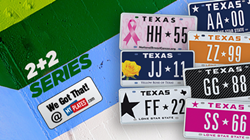 These plates are a great way to express your individuality and make your vehicle stand out from the crowd
AUSTIN, Texas (PRWEB) May 22, 2023
My Plates releases 2+2 Series that are EZ to remember!
My Plates, the home for all specialty license plates in Texas, is thrilled to announce the launch of an all-new series of 2 Plus 2 Personalized Plate Combinations. This series features two letter, plus two number combinations, allowing for easy-to-remember license plate messages that can be customized to your liking.
Whether you want to use your initials, your state abbreviation, or your favorite school or team, our new series of 2 Plus 2 license plates has something for everyone. With this new series, you can now create a personalized license plate that truly reflects your personality and interests.
"We are excited to offer this new series of 2 Plus 2 special personalized license plate combinations to our customers," said Steve Farrar, CEO of My Plates. "These plates are a great way to express your individuality and make your vehicle stand out from the crowd."
The new series of 2 Plus 2 special personalized license plates is available for purchase at this link:
https://www.myplates.com/2plus2
Don't wait to get yours! Once a combination is gone, it may not ever be available again. With a limited number of plate combinations available, customers are encouraged to act quickly to secure their desired license plate combination. These plates make great gifts for friends and family members, or even as a treat for yourself.