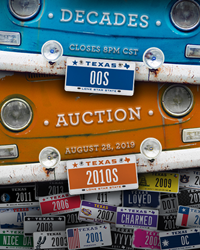 "showcase the birth of a child, the year of graduation, marriage or maybe it's the year of a specific car model".
AUSTIN, Texas (PRWEB) August 12, 2019
If you are ready for some summer fun, then the "My Plates 2000's Decades Auction" has something for you! My Plates has released 25 much LOVED special auction plate messages from the decades of the 2000's & 2010's. The auction collection includes 17 rare 4-digit/number plate messages covering many actual date years from 2001 to 2019, as well as some popular personalized plate messages from those decades.
Were you a fan of Stanley Kubrick's 2001: A Space Odyssey, did you cheer when the Longhorns won the 2005 National Championship, or maybe this year 2019 is the year you got married or celebrate another special event?
By the 2000's the internet was absolutely hopping with online retail, sports, weather, blogs on every subject, random thoughts on Facebook and Twitter and even piano-playing cats on YouTube. Just about everything had a home online. The most sought-after domain to host websites was the ubiquitous DOT COM, featured in this auction.
Another plate message on offer is YYYY. Aside from being the common placeholder for filling in a year on every form, YYYY is an uncommon, cool and easy to remember 4-character plate message that will look super on any of the 100+ eligible My Plates designs.
Whether it's to recognize a special event, showcase the birth of a child, the year of graduation, marriage or maybe it's the year of a specific car model.
No matter the reason, Texans can visit our auction page at http://www.myplates.com/auction to get the 411 on registration and bidding (both pretty simple). The online auction is now open and will run until 8pm Central on August 28, 2019. For more details head to http://www.myplates.com/auction.
My Plates auction plates are unique beyond their messages and rareness. Unlike everyday Texas license plate messages, My Plates auction plate messages are legally transferable. This means the plate owner has the right to pass it on to a family member, or gift to a friend. Transferability also means these plates can be sold, and therefore could make great investments. Any future recipient also gets the same ongoing transfer rights.
All plate messages within this auction come with a 5-year term, first right to renew, and have an opening bid of only $500, with no reserve beyond that. If only the opening bid has been received when the auction closes, that will be the final and winning bid!
Auction Details:
My Plates Decades Auction dates:

Begin Bid Date: Wednesday, 07-24-19 at 12:01 am
End Bid Date: Wednesday, 08-28-18 at 8:00 pm
No matter what the reason is that you crave or honor a specific year, the My Plates Decades auction has you covered. People interested in the auction can visit http://www.myplates.com/auction for more information and to view the complete list of plates for sale.