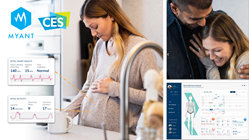 Myant is launching a line of apparel under the brand Skiin that features garments which help people stay connected to what matters most: their own health and the wellbeing of the loved ones in their lives.
TORONTO (PRWEB) January 06, 2020
Myant Inc., the pioneers in Textile Computing™, will be headed to CES 2020 (January 7-10, 2020 in Las Vegas) to bring to life its vision of a world where textile-based interfaces knitted into everyday objects form a better connection between you and your body, your community, the AI-powered digital sphere, and the physical IoT-enabled environment. The experience at Myant's booth will challenge visitors to rethink the value that everyday textile objects can deliver across the 24 hours of daily life (at Home, at Work and at Play), transforming the way that health, performance, and care are measured and delivered.
Humans have a fundamental need to feel connected, to their own bodies and to each other, in order to live healthy, meaningful and productive lives. Despite the incredible reach that our modern digital modes of connection have enabled, we are left feeling more disconnected than ever due to the superficial quality that these have. Consider how we can start a video chat with an elderly loved one on the other side of the world, but we cannot tell how she is feeling unless she picks up the call. We can measure and peer into the inner workings of the heart via a Holter monitor, but still have to wait weeks or even months before a healthcare provider can access and interpret that data to provide care. These types of problems are at the core of Myant's mission to transform human connectedness, combining the richness, intimacy, and immediacy of analog connections with the vast reach enabled by digital connections and the predictive power of artificial intelligence. While digital connectivity and artificial intelligence exist, what is missing to enable this vision is a continuous, ambient interface to the human body.
Myant has been working over the past decade to create the technology, expertise, and infrastructure to realize this new type of connectivity--and now we are ready to share it with the world. At Myant's booth at CES 2020, you will be immersed into a world connected by textile and powered by the Myant Platform. Textiles hold many advantages that make it ideal for interfacing with the human body: they are pervasive in our everyday lives, provide a near continuous and ambient interaction point with the body, and are used by all members of society regardless of age or ability.
By developing textiles that can sense and react to the human body, and connecting these textiles to an AI-enabled digital platform, Myant is bringing the world to the precipice of a new era of human connectedness, one where technology for connectivity morphs around the human experience, where health, wellness, and performance are continuously and ambiently managed, a life where deep empathy and caring are possible even across vast distances. Textile Computing™, the connection of textiles with the AI-enabled digital sphere, represents a leap forward for the idea of the quantified self, enabling the creation of a personal digital twin that is continuously updated via pervasive textile interfaces and optimized by artificial intelligence, freeing you to refocus on the truly human aspects of the daily experience: caring for the ones you love and becoming the best version of yourself. This concept of a connected future which leverages technology to reprioritize the human being in modern life is representative of the vision endorsed by many leading futurists including the Government of Japan and their initiative known as Society 5.0.
As a concrete manifestation of this idea, Myant is launching a line of apparel under the brand Skiin that features garments which help people stay connected to what matters most: their own health and the wellbeing of the loved ones in their lives. The Skiin connected apparel line features everyday clothing (like underwear, bras, undershirts, polo shirts, baby onesies and more) that are a natural part of daily life yet provide people with an unprecedented level of closeness and connection to their own bodies and to those that they care for. Conceived of as a digitally connected epilayer on top of one's biological skin, the Skiin apparel line is a window into what's possible when textiles can do more. In recognition of the transformative nature of this technology, Skiin was honored as a winner in the Health & Wellness category of the CES 2020 Innovation Awards.
Visitors to the Myant booth at CES 2020 will be able to see how Skiin and textile computing technology in general are practically applied to change the way society manages health and optimizes performance across the 24 hours of the daily human experience and across different industries like construction and mining, automotive, aerospace, healthcare, fitness, home and office furnishings, and more. We will be making a series of announcements over the course of the next week to highlight how our demonstrations at CES 2020 will bring these applications to life. Look out for announcements about the following topics:

Distributing the burden of heart health management through connected textiles, providing those at risk of CVD with access to electrocardiography from a single lead to 12 leads
Connected textiles in the office to bridge the gap between the human operating system and the physical workplace to optimize productivity, performance, and workforce health & wellness
A new level of AR/VR immersion through textile-based brain-computer interfaces and full-body interfaces
Connected textiles to transform fitness focusing on cycling, enabling new modes of textile-based performance optimization
Myant to enable a new era of remote monitoring, digital therapy, rehabilitation and connected care using textiles that sense and react
Myant and Helly Hansen to unveil a connected work shoe, highlighting new methods to enhance worker wellbeing and prevent workplace accidents
Myant and Helly Hansen to unveil a line of active thermal work apparel that dynamically regulates the body's temperature, helping those working in cold climates optimize their comfort and performance
Launch of the Digital Textile Exchange (DTX) to democratize access to manufacturing capacity for textiles
Follow Myant on social media (via LinkedIn and Twitter) to hear about the latest announcements, or better yet visit us at CES 2020 (Sands Expo, Halls A-D, Health & Wellness section, Booth #43925) to discover more about a world connected by textile.
For more information or to schedule a meeting with Myant at CES 2020, please contact:
Brian Fung
Marketing Strategist at Myant
brian.fung@myant.ca, 416-423-7906 x401
Frank Florio
VP, Strategy & Business Development at Myant
frank.florio@myant.ca, 416-423-7906 x421
About Myant Inc.
Myant has created the world's first platform that continuously and ambiently connects people to their bodies, to each other, and to the world around them. Using connected textiles that can sense and react to the human body and a platform that enables machine learning driven health and performance outcomes, Myant is on a mission to transform human connectedness. With an extensive patent portfolio, key exclusive relationships within the textile computing industry, a multidisciplinary team of researchers, engineers, data scientists, fashion designers and knitting specialists, and over 80,000 ft² of manufacturing capacity, Myant is changing the way people across society connect. Connect with us to find out how we can help you create innovative solutions powered by connected textiles and the Myant Platform.
Visit https://www.myant.ca or https://www.skiin.com to learn more.to learn more.