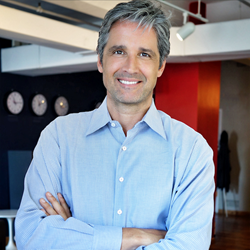 I am very humbled and grateful for the work that has led us here and I cannot be more excited to build the team and execute the strategy that will take this great work to the next level.
San Francisco, CA (PRWEB) May 23, 2017
Louis Gagnon recently joined the MyBrainSolutions (MBS) team as CEO. Gagnon has 25 years of experience as a high-growth global digital businesses leader, most notably at Amazon's subsidiary Audible where he served as Chief Product and Marketing Officer. He also was recently appointed Advisor to TPG Capital following a short CEO assignment to turn around portfolio company Ride.com. Other past notable roles include Chief Product & Marketing Officer at Yodle and Senior VP of Global Products at Monster Worldwide.
As the new CEO of MBS and Brain Resource Limited, Gagnon intends to leverage the company's valuable assets to accelerate momentum of 60% YoY revenue growth. More specifically, the company's Holistic Brain Assessment/Training tools and its standardized Neuroscientific Database will be used to empower individuals to assess and optimize the core brain processes that power their wellbeing.
"I have spent my career focused on creating social change while generating successful shareholder outcomes," said Gagnon. "Brain Resource is the largest shareholder value creation opportunity that I have been associated with and it also is the largest social change opportunity. I am very humbled and grateful for the work that has led us here and I cannot be more excited to build the team and execute the strategy that will take this great work to the next level."
Added MBS Chairman and co-founder Dr. Evian Gordon, "Louis is an extremely well-credentialed leader of high-growth technology-based companies who has a significant personal interest in brain performance. He has extensive relationships across the technology and investment community and provides shareholders with a proven track record of establishing market adoption and repeat purchase of innovative products in high frequency."
Another new addition, Emil Vasilev, comes to MBS with well-rounded experiences across the technology, private equity and investment banking arenas. Having worked as an investment banker at Barclays Capital and investor at Corsair Capital, Vasilev brings in-depth knowledge of finance, capital raising, transaction execution and strategy. He also has hands-on experience overseeing the finance and operations functions at Ride, a portfolio company of TPG Growth.
Vasilev has expressed enthusiasm to align with MBS at a time when the importance of a holistic approach to the brain, corporate and personal well-being is becoming the norm among corporates and business leaders around the world. "I am excited to join MBS and help execute the new plan for the company while leveraging its existing marquee assets," concluded Vasilev. "Their scientific foundation and blue-chip client base are testament to the significant opportunity for shareholder and social value-creation."
Vasilev is an eager practitioner of mindfulness meditation and holistic brain practices and volunteers as a teacher of stress management techniques and meditation. He holds a Bachelor's degree in Economics from Amherst College.
About MyBrainSolutions [parent company Brain Resource Ltd (ASX: BRC)]
MyBrainSolutions is an online integrated self-empowerment platform to assess the brain and provide engaging digital health tools to train new habits and improve brain health. The platform is the first to bring together a brain-based assessment with tools to reduce stress and improve cognitive and emotional functions for employees and customers using scalable, confidential and cost-effective methods. MyBrainSolutions is owned by a subsidiary of Brain Resource Limited, which is also commercializing iSPOT products powered by the largest standardized and integrated database on the brain. For more information, please visit http://www.mybrainsolutions.com.
About the NALA™
The NALA offers small and medium-sized businesses effective ways to reach customers through new media. As a single-agency source, the NALA helps businesses flourish in their local community. The NALA's mission is to promote a business' relevant and newsworthy events and achievements, both online and through traditional media. For media inquiries, please call 805.650.6121, ext. 361.