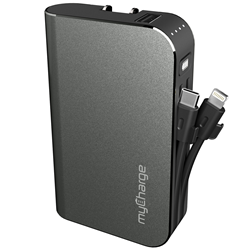 DETROIT (PRWEB) November 12, 2019
When the low battery notification pops up on a smartphone or tablet the last thing anyone wants to do is sit around waiting for it to recharge, let alone search for the correct charging cords. The newest portable powerbank to join myCharge's flagship Hub series line, Hub Turbo, is an all-in-one portable powerbank that solves both issues with built-in charging cords and technology that delivers a powerful, fast recharge. Hub Turbo chargers are now available at Best Buy and Amazon.
The anodized aluminum line of Hub portable powerbanks makes powering smartphones and tablets on-the-go incredibly convenient. The latest additions to the Hub series, the Hub Turbo 6700 mAh and Hub Turbo 10,050 mAh pair a Lightning cable with a USB-C cable that push both Power Delivery and Qualcomm Quick Charge for a fast recharge. The Hub Turbo is the first powerbank to hit the market with this feature and can recharge any Power Delivery or Quick Charge compatible device 75% faster than a traditional charger or power block. Both the 6700 and 10,050 mAh models also feature a USB-A port on their sides that can be used to charge another device with a separate charging cable as well as fold-out wall prongs on the back that can be plugged into a wall outlet to recharge the unit.
"The Hub series is everything you could need for mobile charging, plus the kitchen sink," said myCharge President Jim Dara. "We've added new combinations of built-in charging cables so now Apple and Android device users can charge via older standards or the new C standard, and we're also incorporating the latest fast charge technologies so your device battery will be at full capacity again in less time. There isn't a charging convenience that we have overlooked in the Hub series, especially with the new Hub Turbo powerbanks."
Racing to be the first-to-market with the latest charging technologies leads some companies to take shortcuts in design and manufacturing that can result in battery malfunction. myCharge always puts safety at the forefront, designing its batteries with 12 layers of protection including defense against overheating and overcharging. Batteries used in myCharge devices are certified and pass National Analysis Center (NAC) performance and safety standards.
The Hub Turbo 6700 mAh retails for $89.99 and the 10,050 mAh retails for $109.99. Both are available for purchase at Best Buy or Amazon. More information about the Hub chargers and the entire myCharge product line can be found at http://www.mycharge.com.
About myCharge
myCharge, innovators in portable power create the ultimate portable power solutions for anyone, anywhere who needs to stay charged. Incorporating the highest quality components, cutting-edge design, and smart technologies, myCharge responds to the latest technological advances by providing products dedicated to restoring everyday balance and fulfilling consumer needs in today's on-the-go, always connected, digital society. Learn more at http://www.mycharge.com.