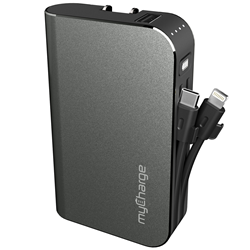 DETROIT (PRWEB) April 08, 2020
myCharge announces a new program to empower everyone to help keep the brave warriors working on the front lines in hospitals charged and connected, while honoring them for their service. Front line hospital workers are working long days and risking their own health and well-being. Unfortunately, during the course of their days their phone power levels run low and they do not have time to spare waiting near an outlet for them to recharge.
During the month of April 2020, myCharge will help by donating a charger for every Hub portable charger sold on Amazon. You stay connected, and through your purchase you keep a health care worker connected with loved ones, patients and colleagues. At the end of April, myCharge will be posting all hospital donations and locations at myCharge.com.
To incentivize participation, myCharge is also extending a special offer of 30%-off of its signature Hub product line.
myCharge sends its customers, partners, retailers, and everyone best wishes for good health. Remember not only to clean your phone but also regularly clean your charger and other high-touch devices. We are #inthistogether.
myCharge items are in stock and available now, while supplies last, on Amazon with free shipping and the option to receive a charger in as little as two days (free two-day shipping is available for Prime Members). Shop now at https://www.amazon.com/myCharge-Portable-Charger-Power-Bank/dp/B07WW1S693
About myCharge
myCharge, innovators in portable power create the ultimate portable power solutions for anyone, anywhere who needs to stay charged. Incorporating the highest quality components, cutting-edge design and smart technologies, myCharge responds to the latest technological advances by providing products dedicated to restoring everyday balance and fulfilling consumer needs in today's on-the-go, always connected, digital society. Learn more at http://www.mycharge.com.