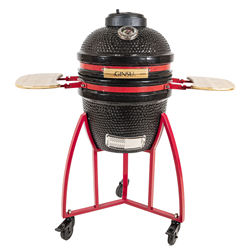 "MyDIY Center is excited to partner with Ginsu to expand their brand portfolio into the barbecue and outdoor living space with the first Ginsu grill." - Jeremy Cantor, President
COLUMBUS, Ohio (PRWEB) March 04, 2022
MyDIY Center, a nationally recognized on-line resource that provides "Do It Yourselfers" access to professional products and tips of the trade, has entered into an exclusive licensing agreement with Ginsu to manufacture and release the brand's first outdoor grill. MyDIY Center is introducing the Ginsu Kamado Ceramic Grill at the Inspired Home Show in Chicago March 5-7 at McCormick Place.
The Kamado Ceramic Grill is a complete outdoor cooking appliance that allows anyone from novices to grill masters to sear, grill, bake and smoke all types of food. This 15" grill serves as a standard charcoal grill and doubles as a smoker, designed for efficiency and function while displaying the iconic style associated with the Ginsu brand. The thick ceramic construction provides superior thermal insulation allowing for year-round use.
"Ginsu is a truly iconic brand that became a household name in the late 1970's, with the sharpest knives and unforgettable tv commercials that many of us still remember today," MyDIY Center President Jeremy Cantor said. "Over the years, the Ginsu portfolio has grown to provide innovative solutions throughout the kitchen and today, MyDIY Center is excited to partner with Ginsu to expand their brand portfolio into the barbecue and outdoor living space with the first Ginsu grill."
Whether cooking meat, poultry, fish or vegetables, the Kamado locks in moisture and provides a variety of ways to infuse different flavors. The Kamado will be available exclusively through MyDIYCenter.com and the MyDIY Center Store on Amazon slated to launch in June of 2022. It will retail for $599.
Ginsu knives began airing infomercials in 1975 and coined the catchphrase 'But wait, there's More…" Decades later what has become a brand promise is carried through each addition to the brand portfolio. The Kamado Ceramic Grill is a bundled solution that comes with a grill cover, half-moon griddle (for frying up eggs, bacon, pancakes) and meat gloves. But wait, there's more! It also comes with an electric starter to light the coals, a digital meat thermometer and tongs.
In addition to the launch of the new Ginsu grills, MyDIY Center is also the exclusive distributor for products from other nationally recognized brands like Kirby and Brüdermaim. MyDIY Center provides the complete customer experience with a live support center, ensuring experts are available to assist with questions about products and installation. For more information and a complete range of product offerings, visit the My DIYCenter Amazon Store or http://www.mydiycenter.com