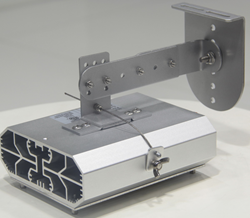 1000's in stock in the USA ready to ship!
Nashua, NH (PRWEB) August 18, 2017
MyLEDLightingGuide has changed the market for upgrading HID lighting fixtures with the release of its latest models of energy efficient LED Retrofit Kits. We offer 11 models, from 30W to 350W, with industry leading 145-165 lumens/watt efficacy, 10 year warranties and multiple mounting options without the need for having the customer send in their fixtures for us to create a custom plate. All the kits are DLC Premium Listed to maximize utility rebates.
"We now stock 1000's of retrofit kits in our USA warehouse ready to ship," says Dwayne Kula, owner and founder of MyLEDLightingGuide. "Our customers want great product at great pricing that's available now. Waiting weeks to deliver the product can mean the difference between getting the deal and not getting the deal. That is why we stock them - to make our customers successful."
There are a total of 11 models in the fifth generation of LED Retrofit Kits, designed to replace existing Metal Halide, High Pressure Sodium and Mercury Vapor in existing fixtures. The smallest model is a 30W unit producing 4,950 lumens designed to replace 70-150W Metal Halide and our largest is 350W producing 50,750 lumens designed to replace 1000W+ Metal Halide.
Guiding consumers towards more energy efficient high quality products is the main goal. It is achieved by providing the consumer a superior product when it comes to LED lighting solutions. With our led retrofit kits, we are able to save more energy and create quicker pay backs for the customer.
About Us
It is the primary goal at MyLEDLightingGuide.com to help the commercial customers save energy and money by using safe, efficient LED lighting for their facilities. Our goals is to educate the customer with real information about LED Lighting and show them how to convert from their older style lights over to LED. For more product information, check out our LED Retrofit Kits at: https://www.myledlightingguide.com/led-retrofit-kits.