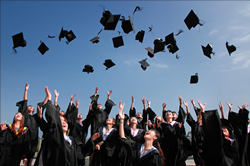 In just the next four months alone, it's estimated that over $5 billion will be spent on gifts for grads.
FORT LEE, N.J. (PRWEB) April 11, 2019
MyRegistry.com knows weddings are big business, but the authority on universal gift registry services recently revealed that graduations come in a close second during the spring and early summer months.
The proof is in the numbers. Over 3.7 million high school seniors will graduate this year—that's almost double the number of couples getting married.
"Industry data tells us wedding registries generate $20 billion in annual sales," says MyRegistry.com President, Nancy Lee. "But the gifting that surrounds graduations is just as impressive, and shouldn't be overlooked. In just the next four months alone, it's estimated that over $5 billion will be spent on gifts for grads."
MyRegistry.com analyzed thousands of graduation registries in its database to underscore the power of this opportunity. Retailers should pay attention, and here's why:
Grads request numerous gifts. The average graduation registry features over two dozen items.
Gift choices are diverse. Grads want all sorts of things and aren't afraid to ask for them. MyRegistry.com consistently saw the following items on its users' graduation registries: Earbuds, laptops, twin XL sheets, coffee makers, even string lights, likely to be used as dorm decor.
Other popular requests included items for storage and organization, desk accessories, and dining essentials, such as plates, bowls, and cups. All this variety means retailers in different categories can get in on the gifting action.
MyRegistry.com also found that gifting for graduations is strong across all age groups. Grads themselves are passionate givers. About 45% of 18-24 year-olds gift each other, spending an average of $75 per gift. Older customers (typically parents, grandparents/other relatives) are even more generous, spending an average of $110 per gift.
Considering that the graduate base is huge, it's no surprise that the number of retailers marketing to college-bound students keeps growing. Initially it was select big-box retailers. Now, electronics and office supply stores, college bookstores, and local stores of all sizes are tapping into this lucrative market.
Many of these stores have added a college gift registry. The reasons are simple: a gift registry ensures that students get what they want; the process is hassle free; and the retailer enjoys fewer returns and greater customer satisfaction. So, while the gift of choice had been cash or gift cards in the past, gift registry now lets gift-givers know exactly what to buy.
What's more, graduation marks a key stepping stone, so if retailers connect to these consumers now, those relationships can carry well into the future.
About MyRegistry.com
MyRegistry.com is the largest universal gift registry software provider to U.S. and Canadian retailers. Businesses that use the company's customizable, end-to-end gift registry solution are able to tap the massive gift industry. Easy to implement, cost-effective, and quick to market, with precise reporting and an optional in-store kiosk system, a universal gift registry powered by MyRegistry.com is the next digital utility for retailers of all sizes. MyRegistry.com - All stores, One registry.®