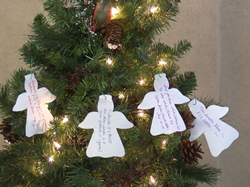 "The team at Grande Dunes was thrilled to see the community come together for these fantastic causes." Peggy Davis, Lifestyle Director for Grande Dunes
MYRTLE BEACH, S.C. (PRWEB) December 19, 2019
Grande Dunes, a master-planned community based in Myrtle Beach is participating in the Salvation Army Angel Tree and the Marines Toys for Tots programs to benefit children in need across Horry County.
The Salvation Army Angel Tree originally held 30 ornaments, each representing a child in need in Horry County. All 30 ornaments have already been selected and gifts are currently being returned under the tree located at the Grande Dunes Ocean Club. Both residents and the public can still give monetary donations at any time. The Salvation Army Angel Tree has been a long-running tradition in the Carolinas and has helped thousands of children in need since its inception in 1979.
Grande Dunes also participated in the United States Marine Corps' Toys for Tots program by hosting several drop-off locations throughout the community. Participants of the program donated unwrapped toys for children ages for 0-12 years of age and dropped them off at the Ocean Club, Members Club or Marina Ship Store, located at the Grande Dunes Marina. Last year alone, the Toys for Tots program provided 7 million gifts to children across the country.
"The team at Grande Dunes was thrilled to see the community come together for these fantastic causes. Both the Salvation Army and the Marines help so many children each year, and it was no surprise to any of us to see the generosity of our residents and members make a difference," said Peggy Davis, Lifestyle Director for Grande Dunes.
To learn more about The Salvation Army in Horry County or to make a donation, visit bit.ly/SalvationArmyHorry. To learn more about Toys for Tots in Horry County and to make a donation, visit bit.ly/ToysforTotsHorry.
About Grande Dunes
Grande Dunes is a 2,600-acre master-planned community located in Myrtle Beach, SC. Upon completion, the community will have approximately 5,000 single-family homes, villas, homesites and 2 million square feet of retail and commercial properties. Grande Dunes stretches from the Atlantic Ocean to the west of the Intracoastal Waterway, and from Water Tower Road to Grissom Parkway. Homes start from the low $200,000s to more than a million dollars.
Adding to the value of the community is a range of private and public club amenities including the semi-private Members Club and golf courses, including an 18–hole Nick Price/Craig Schreiner designed championship course. The private 25,000 square foot Ocean Club and resort-style pool offer beach access to the Atlantic Ocean. Grande Dunes Tennis Center offers 10 Har-Tru clay courts that are nestled along the Intracoastal Waterway. Located on the Intracoastal Waterway is the 126-slip Marina at Grande Dunes and the popular Anchor Café. At the southern edge of the community is the Claire Chapin Epps Family YMCA.
This year, Grande Dunes is celebrating its 20th anniversary by offering a variety of events at the on-property venue, Marina Park. Events range from concerts, movies and Derby Day to family-friendly events. All are open to the public. For more information and a calendar of events, visit https://grandedunes.com/twenty-years-of-living-grande/.
About LStar Ventures
LStar Ventures is a privately held real estate development firm that owns many of the finest master-planned communities across the country. LStar has emerged as a leader in the reinvention and reclamation of promising residential and mixed-use communities. Since its inception in 2007, LStar Ventures has built more than 40 beautiful, financially successful, and environmentally sensitive communities in 13 states while recognizing the needs of residents and integrating regional, cultural and historical features. For more information, please visit http://www.LVNT.com.