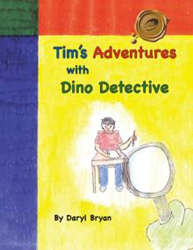 BALTIMORE (PRWEB) August 20, 2019
Set for a new marketing campaign, published author Daryl Bryan invites young readers to "run with their imagination" and join "Tim's Adventures With Dino Detective" (published by Trafford Publishing in October 2006).
"Have you ever wondered about far off worlds when you were younger, but never could share it with an actual person? Well, growing up for me was sort of like that," the author shares. "I would dream and conjure up different things and realities. For instance, I invented this story about a boy, Tim, who found a magic piece of paper that lets him bring an imaginary explorer/detective into his life, as written in this book. I imagined Tim as my alter ego who loved to do things that I, the author, could not do. For example, find and solve mysteries with the help of my friends."
"Tim's Adventures With Dino Detective" follows Timothy Johnson who gained magic powers and brought into real life an imaginary talking dinosaur, Andre Jackson aka Dinosaur Detective. What mystery and adventure await these two?
According to Bryan, the book can be described as a fan tribute to literature with the likes of Looney Tunes and Hanna Barbera cartoons. It lends a hand to traditional children's books and animated movies. With the publication of "Tim's Adventures With Dino Detective," the author hopes readers will take away a sense of nostalgia.
To purchase a copy and know more about the book, visit https://www.amazon.com/Tims-Adventures-Detective-Daryl-Bryan/dp/1412076463.
"Tim's Adventures With Dino Detective"
By Daryl Bryan
Softcover | 8 x 10in | 24 pages | ISBN 9781412076463
Available at Amazon and Barnes & Noble
About the Author
Daryl Bryan was born in Atlanta, Georgia. He has entered and won several hobby contest. Growing up, he watched many cartoons (and still do) and the inspiration for going into writing as a hobby took place. He likes to draw and write in his spare time, and has always been a fan of stories. To get involved in writing, he read up on English literature, African literature, drama, screenwriting, women's literature and Hispanic-American literature.