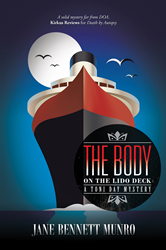 "The mystery's nomadic setting—on a cruise ship still on course for its vacation destinations—and the protagonist's go-getter attitude make for an enthralling beach read." – The US Review of Books
TWIN FALLS, Idaho (PRWEB) February 18, 2019
Author and career pathologist Jane Bennett Munro has released five novels in "The Toni Day Series", with "The Body on the Lido Deck" being the fifth installment.
The story follows Toni Day, M.D., who, while vacationing on a cruise, has a horribly mangled dead body land right in front of her on the Lido Deck. Toni teams up with her stepfather, Nigel, and Scotland Yard to try and solve the crime. But with only two days left aboard ship, and resistance from the Captain and the Royal Barbados Police Force, Toni and Nigel must work against time to ensure the killer does not get away.
"The mystery's nomadic setting—on a cruise ship still on course for its vacation destinations—and the protagonist's go-getter attitude make for an enthralling beach read." – The US Review of Books
Bennett Munro, who herself has over four decades in pathology experience, incorporates her own medical and forensic knowledge into her grisly descriptions of her book's victims, offering readers a realistic and gritty story that will leave them riveted.
"The Body on the Lido Deck"
By Jane Bennett Munro
ISBN: 9781491795507 (Softcover), 9781491795514 (Electronic)
Available at the iUniverse Online Bookstore and Amazon
About the author
Jane Bennett Munro holds a medical degree from the University of California, Irvine, and is certified in anatomical and clinical pathology. A hospital-based pathologist for 41 years, Bennett Munro has some experience working in forensics. She currently resides in Twin Falls, Idaho. To learn more, please visit http://www.janebennettmunro.com.