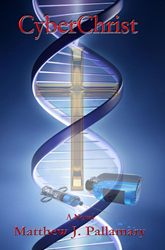 What form an unending human life would take, or whether an immaterial soul exists and possesses immortality has been a major point of focus of religion as well as the subject of speculation, fantasy, and debate. -- Wikipedia
San Diego, CA (PRWEB) November 03, 2014
Award winning author Matthew J. Pallamary's latest thriller, "CyberChrist" will be released by Mystic Ink Publishing on December 1st. Pre-orders for the e-book are now available from iTunes and Smashwords.
Ashley Butler, a prize winning journalist at the San Diego Times receives an email from a man who claims to have discovered immortality by turning off the aging gene in a 15 year old boy with an aging disorder. The email has pictures showing a reversal of the aging process, the name of a scientist, and a company to investigate.
Thinking it a hoax, Ashley forwards the email to friends. Though skeptical, she calls to investigate and gets a no longer in service message. When she leaves her office she overhears a news story about the death of the scientist mentioned in the email.
Ashley decides to check out the company mentioned in the email and discovers a gutted building where the company was supposed to be. When she checks out the deceased scientist's address, she has a confrontation with an unfriendly federal investigator. When she returns to her office she finds him, subpoena in hand, confiscating her computer.
The investigator tells Ashley that the scientist who sent her the email is a killer that they need help catching. When she does more checking with her own investigators, none of them return.
The forwarded email becomes the basis for an online church built around the boy, calling him CyberChrist. The CyberChrist church claims that the Internet is the physical manifestation of the group mind of humanity and that the boy is the second coming of Christ online.
The federal government tries to shut down the church, but its website replicates faster than they can stop it. While church and state battle over religious freedom online, the media and the state battle over freedom of speech.
Ashley battles to stay alive.
Pallamary's recently published tribute to Ray Bradbury, a short story collection titled "A Short Walk to the Other Side" was an Award Winning Finalist in the International Book Awards.
His historical novel Land Without Evil received rave reviews, and was adapted into a multimedia aerial extravaganza, directed by Sarah Agent Red Johnston and performed by acrobatic troupe, Sky Candy to sold out audiences. The making of the show, filmed as a PBS episode of Arts in Context, garnered an EMMY nomination.
His memoir Spirit Matters, detailing his journeys to the jungles of Peru, took top honors in the San Diego Book Awards' Spiritual Book Category, and was an Award-Winning Finalist in the National Best Book Awards. It was also released as an audio book, narrated by the author. Originally from Dorchester Massachusetts, Pallamary has lived in San Diego for the past 35 years. For more about Pallamary, or to book him for speaking engagements or interviews visit http://www.mattpallamary.com.
Based in Santa Barbara, "Innovative Creative Content: What Makes You Different Connects Us All" is a Content Marketing Firm focusing on successful client branding and global marketing through targeted content and storytelling campaigns. For more information, visit their website at http://www.innovativecreative.co or contact them directly at email (at) innovativecreative (dot) co.