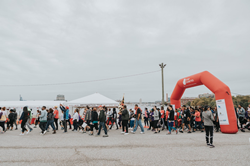 BALTIMORE (PRWEB) November 15, 2019
The American Diabetes Association of Maryland's 2019 Step Out Walk to Stop Diabetes event took place on Sunday Oct 6, 2019 at the Canton Waterfront Park in Baltimore City, MD. The Step Out walk started at 9AM alongside the scenic Canton Waterfront. The event consisted of 96 teams, 647 walkers, and raised over $204,100. MyWay Mobile Storage donated two portable storage units for the staff to load the necessary equipment for the event and transported the units to the event site for onsite storage use.
The Step Out Walk is an annual event for ADA that requires the movement and storage of many large event items in order to have things run properly. "MyWay goes out of their way to make our events run smoothly and has the containers placed exactly where we need them for Event day. They're reliable, friendly and punctual! The staff of the ADA is grateful for our continued partnership and MyWay Mobile Storage's generosity," said Julie Funk, Maryland area American Diabetes Association Development Director.
The Step Out Walk to Stop Diabetes is a community driven event that gives participants that chance to walk together to raise funds for diabetes research, advocacy and education. Children and adults who are living with diabetes: type 1, type 2 or gestational, were celebrated on walk day with special shout outs! The Step Out Walk recognizes participants with diabetes as the superstars on the day of the event with special gifts for fundraising, a clubhouse tent and more.
About MyWay Mobile Storage
MyWay Mobile Storage is the leading provider of moving and storage solutions. They provide quick and easy do it yourself moving containers that can be delivered right to your door and stored in their climate controlled, secure storage facilities. To learn more visit http://www.mywaystorage.com or call (888) 336-9929 to speak with a Moving & Storage Consultant.