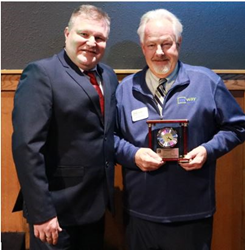 PITTSBURGH (PRWEB) January 28, 2020
MyWay Mobile Storage of Pittsburgh is proud to announce that market owner, Ed Sickmund, received the REALTORS® Association of Metropolitan Pittsburgh (RAMP) community service award during the group's 109th Installation of Officers and Awards celebration. The Community Service Award recipient is a member who is actively involved with humanitarian/philanthropic activities within the Metropolitan Pittsburgh area. MyWay Mobile Storage is a long-time Affiliate member of RAMP and Sickmund has been an active member of RAMP's Community Service Committee.
The award was presented by John Petrack, RAMP Executive Vice President. "We chose Ed for the Community Service Award for his many efforts representing the REALTOR® spirit through service to the community at large."
"This past year, 2019, was a terrific year for the Community Service Committee," Sickmund said, "In addition to feeding the homeless and underemployed at our Daily Bread event, we had a successful Hats/Gloves/Scarves/Sock Drive, enjoyed a beautiful day doing some spring planting as part of our annual Senior Curb Appeal Day, shared our 'visions of opportunity' at our fourth annual Boys and Girls Club Career Day, and had fun helping unload a trailer of new jackets and organizing other donations at the Light of Life Rescue care center."
Sickmund continued, "One of the things I enjoy about all of RAMP's community service projects is the relationships we build with other great Pittsburgh community organizations like the United Methodist Church Union and their Northside Congregate Feeding Program, the LaRosa Boys and Girls Club in McKeesport, Veteran's Place of Washington Boulevard, Pittsburgh Project and Light of Life Rescue Mission.
At the end of the evening, newly installed RAMP 2020 president, Bob Moncavage, commented, "Count me in, I'm really looking forward to working with Ed on some of the Community Service Committee projects in 2020."
About the REALTORS® Association of Metropolitan Pittsburgh (RAMP):
Since 1911, RAMP has served real estate professionals and the community as western Pennsylvania's most effective voice for private property and industry professionalism. RAMP began with 30 members and has since grown to include approximately 2,100 residential and commercial realtors. RAMP has remained at the forefront of public policy and member advocacy. With full-time government affairs and education programs, RAMP is uniquely positioned to provide its members with the tools they need to do business successfully and ethically. By shaping legislation and preparing REALTORS to serve their clients more effectively, RAMP has delivered the American Dream to five generations of Pittsburgh-area property owners. Visit http://www.realtorspgh.com/.
About RAMP's Community Committee:
RAMP's Community Service Committee is responsible for engaging with the general public by coordinating public service projects. This committee's activities provide a service or assistance to citizens who are less fortunate. The mission is to maintain and enhance RAMP's image and community awareness through community outreach projects. In addition to feeding the homeless and underemployed the 2019 calendar includes volunteering at the Light of Life Rescue donation center, Senior Curb Appeal Day, Hats/Gloves/Scarves/Sock Drive and Boys and Girls Club Career Day.
About MyWay Mobile Storage:
MyWay Mobile Storage is the leading provider of moving and storage solutions and located in a spacious 25,000 square foot facility in West Mifflin, PA to better service their customers in the metropolitan Pittsburgh area. They provide quick and easy do it yourself moving containers that can be delivered right to your door and stored in their climate controlled, secure storage facilities. MyWay Mobile Storage is a RAMP Affiliate Member and Market Owner, Ed Sickmund, was honored with their 2011 Affiliate of the Year award. Sickmund and MyWay Mobile Storage are also involved with the National Association of Productivity & Organizing Professionals, Business Networking International, Veterans Place of Washington Boulevard and the South West Communities Chamber of Commerce.
To learn more about MyWay Mobile Storage, visit https://www.mywaystorage.com or call 888-336-9929 to speak with a Moving & Storage Consultant.