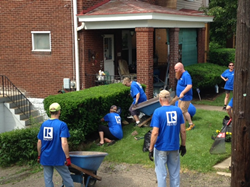 PITTSBURGH (PRWEB) June 10, 2019
On Saturday, June 8, 2019, MyWay Mobile Storage was joined the REALTORS® Association of Metropolitan Pittsburgh (RAMP) in their Community Service Committee's Curb Appeal event. The event was focused on helping local senior citizens to improve their homes curb appeal. MyWay Mobile Storage donated several flats of flowers to brighten up the yards.
"We really love to get out in the community and give back. The Curb Appeal event has become one of my favorites," said Emily Platts, RAMP Community Service Committee co-chair. "It was a pleasure to work with The Pittsburgh Project and Ross who is the Homeowner Care Coordinator. Being in the real estate industry, we know how to boost any homes curb appeal." Platts continued, "He helped us identify those in the community who really are in need of help to maintain their yards and appearance of their homes. It does have an impact on the neighborhood and shows what all realtors know curb appeal is where things start."
Ed Sickmund, MyWay Mobile Storage Market Owner and RAMP Affiliate member said, "Helping RAMP with this great event is the highlight of this time of year. Not everyone can garden, and keep up with all the yard work. That is why it is so great that MyWay can brighten up to their yards and their day by brightening up their yards and that's what we are all about."
"Residents in the Pittsburgh area who have a need for assistance with basic home maintenance will receive our help this Saturday," said Michelle Schocker, RAMP Community Service Committee co-chair. "The Pittsburgh Project helped us identify those who were in the most need." Schocker noted, "We welcome any donations to help with Curb Appeal Day: flowers, mulch, tools, or time."
Michelle Senko co-chair added, " This is also one of my favorite realtor events, I just love the teamwork, seeing the smiles when we complete one of the yards and having the owner of our company, Reed Pirain, there to lead our effort, his knowledge of landscaping means our efforts will last for more than this spring."
About the REALTORS® Association of Metropolitan Pittsburgh (RAMP):
Since 1911, RAMP has served real estate professionals and the community as western Pennsylvania's most effective voice for private property and industry professionalism. RAMP began with 30 members and has since grown to include approximately 2,100 residential and commercial realtors. RAMP has remained at the forefront of public policy and member advocacy. With full-time government affairs and education programs, RAMP is uniquely positioned to provide its members with the tools they need to do business successfully and ethically. By shaping legislation and preparing REALTORS to serve their clients more effectively, RAMP has delivered the American Dream to five generations of Pittsburgh-area property owners. Visit RealtorsPGH.com
About RAMP's Affiliate Committee:
RAMP's Affiliate Committee is made up of real estate industry professionals who help realtors do business every day by offering a wide range of services. Affiliate Committee members find new ways to build a mutually beneficial relationship between RAMP members and other key segments of the real estate community. Through education and networking events, the Affiliate Committee works with RAMP to advance their mission of assuring an ethical and prosperous real estate industry in the Pittsburgh region.
About The Pittsburgh Project
The Pittsburgh Project is a Christian nonprofit community development organization with a thirty-four-year history of service to the Pittsburgh area, through investment in future leaders and vulnerable homeowners.
Located on Pittsburgh's Northside, our staff operates a progressive series of youth after-school programs, welcomes partners year-round to serve community homeowners, and operates local recreation spaces. Visit https://www.pittsburghproject.org/
About MyWay Mobile Storage:
MyWay Mobile Storage is the leading provider of moving and storage solutions and located in a spacious 27,500 square foot facility in West Mifflin, PA to better serve their customers in the metropolitan Pittsburgh area. They provide quick and easy do it yourself moving containers that can be delivered right to your door and stored in their climate-controlled secure storage facilities. MyWay Mobile Storage is a RAMP Affiliate Member and Market Owner, Ed Sickmund, was honored with their 2011 Affiliate of the Year award. Sickmund and Myway Mobile Storage are also involved with the National Association of Professional Organizers (NAPO), Business Networking International (BNI) and the South West Communities Chamber of Commerce (SWCCOC), where Sickmund currently serves as board president.
To learn more about MyWay Mobile Storage, visit our website or call 888-336-9929 to speak with a Moving & Storage Consultant.