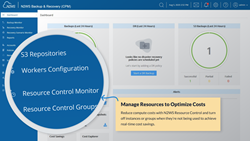 We will be able to have even more protection for this data across different regions for additional security
WEST PALM BEACH, Fla. (PRWEB) August 17, 2020
N2WS, a leader in enterprise Backup and Disaster Recovery for Amazon Web Services (AWS), today announced the general availability of N2WS Backup & Recovery 3.1. This release deepens performance, cost-optimization and automation capabilities on Amazon Web Services (AWS) to provide: data replication between Amazon Simple Storage Service (Amazon S3) buckets across regions and accounts; fast and efficient Amazon Elastic Block Storage (Amazon EBS) snapshot copy to Amazon S3 for long-term archiving; custom tag integration; recovery drill scheduling and cross-region DR for Amazon Elastic File System (Amazon EFS).
As organizations expand their footprint on AWS, IT Admins are tasked with managing an increasingly large and complex environment. They require the right tools to help centralize and automate key backup and recovery processes, as well as provide efficient storage management and simple cost-optimization tools.
"Our customers are always looking for new ways to simplify their backup and recovery processes on AWS. N2WS Backup & Recovery v3.1 builds on the success of version 3.0, where we introduced a complete, new user experience. Today, we unveil our latest release which adds greater flexibility and granularity, while ensuring customers are equipped to confidently build their DR strategy. Importantly, it allows them to make the right decisions about where backups are stored for audit and compliance." Gil Sasson, VP R&D, N2WS.
With the release of version 3.1, customers can better protect critical AWS workloads, prove compliance, and gain total confidence in their Disaster Recovery strategy with capabilities including:

Optimized Data Lifecycle Management: Lower storage costs by immediately archiving snapshots to Amazon S3, without needing to keep the original Amazon EBS snapshot.
Amazon S3 Replication: Automatically sync Amazon S3 buckets across AWS Regions or AWS accounts.
Disaster Recovery testing: Schedule regular DR dry runs, check recovery configurations, and prepare for any disaster scenario.
Custom tags: Integrate existing tag schemas and streamline backup policies for more intelligent data management.
Reporting improvements: Provides greater detail in the Snapshot Report: new details include volume size, valid data size, and the size of changed data.
Cross-region DR: Ensure high availability for Amazon EFS workloads with cross-region disaster recovery.
N2WS also announced an initiative for AWS Marketplace to empower their partners to sell and provision N2WS Backup & Recovery via the AWS Marketplace Consulting Partner Private Offer (CPPO) and Service Provider Private Offer (SPPO) programs. This offering helps partners meet customer requirements and streamline the procurement process. Service providers can provide their customers with a one-stop shop for AWS services that includes N2WS Backup & Recovery along with consulting and professional services.
N2WS Backup & Recovery version 3.1 is available for immediate use by visiting AWS Marketplace at: https://aws.amazon.com/marketplace/pp/B00UIO8514. Protect up to five Amazon EC2 instances for free with N2WS Backup & Recovery Free Edition.
More information can be found at https://n2ws.com
Supporting Quotes
"Gett stores a lot of important data, including backups and customer information, on Amazon S3. With N2WS version 3.1 we will be able to have even more protection for this data across different regions for additional security. We can also implement cross-region DR for our 20 Amazon EFS volumes, and with custom tags deployment, is made even easier. This will be a real time-saver for the IT team as we look to further streamline our backup and recovery process." - Danny Michael, Global Head of IT, Gett
Learn how N2WS customer Gett simplified their backup and recovery operations on AWS and saved $100k in a year - https://aws.amazon.com/partners/success/gett/.
"As organizations grow on AWS, data protection continues to be our top priority. AWS customers can benefit from these new capabilities, allowing them to add an additional layer of protection for their environments with scalable (BU and DR) DR plans, while optimizing costs and processes. By leveraging tools such as Consulting Partner Private Offers (CPPO) and Solution Provider Private Offers (SPPO) in AWS Marketplace, customers can contract directly with N2WS partners around the world." – Chris Grusz, Director, AWS Marketplace, at Amazon Web Services, Inc.
"Recent research by ESG shows that now, more than ever, organizations are focusing spend on data protection. As more critical workloads are hosted on the cloud, it's vital that organizations regularly review their backup and recovery practices. These latest developments by N2WS will help support this process, ensuring businesses can meet data management and RTO objectives on AWS. It also gives the N2WS network of partners a great opportunity to provide an essential backup service to their customers. " - Christophe Bertrand, Senior Analyst at ESG
About N2WS
N2WS is a leading provider of enterprise backup, recovery and disaster recovery solutions for Amazon Elastic Compute Cloud (Amazon EC2), Amazon Relational Database Services (Amazon RDS), Amazon Redshift, Amazon Elastic File System (Amazon EFS), Amazon Simple Storage Service (S3), Amazon Aurora, and Amazon DynamoDB. N2WS was founded in 2012, with the mission to make enterprise-level Amazon Web Services (AWS) backup easy and reliable for AWS, and today serves thousands of customers around the world. N2WS Backup & Recovery is a preferred backup solution for Fortune 500 companies, enterprise organizations and Managed Service Providers operating large-scale production environments on AWS. To learn more, visit http://www.n2ws.com.