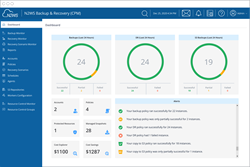 N2WS continues to be the go-to solution for enterprise backup and recovery for any type of AWS workload.
WEST PALM BEACH, Fla. (PRWEB) March 11, 2020
N2WS, a leading provider of backup and recovery solutions for Amazon Web Services (AWS), today announced the general availability of N2WS Backup & Recovery 3.0. This release empowers customers to take control of their data on AWS through a set of major product enhancements. Built in the cloud, N2WS helps businesses manage storage and infrastructure, orchestrate recovery of critical resources, and archive data for compliance.
As organizations add more applications and services on AWS, their data footprint grows. Large amounts of data, along with long retention requirements (7+ years), can be difficult and costly to manage. The complexity of various interconnected applications and services also impact the speed of recovery. A survey of 130+ random AWS re:Invent 2019 attendees revealed that most rely on manual efforts and scripting to recover workloads in the event of outages. When an outage or failure occurs, all individual components of an application need to be recovered in a specific order to ensure a quick return to normality. Automation is key to simplifying this process.
"As enterprises move more business-critical workloads to AWS, our customers are constantly looking for new tools to help them build a resilient and well-managed environment. We're delighted to see N2WS' commitment to supporting customers with their compliance and efficiency goals with the availability of N2WS Backup and Recovery 3.0 in AWS Marketplace," Chris Grusz, Director of Worldwide Business Development, AWS Marketplace, Amazon Web Services, Inc.
Major enhancements available, as part of version 3.0, include:

Enhanced – Data Lifecycle Management with archive to Amazon Glacier
N2WS extends Data Lifecycle Management to enable greater control of AWS data, with automated policies that move backups into the most appropriate storage tier on Amazon Simple Storage Service (Amazon S3), including Amazon Glacier and Amazon Glacier Deep Archive. This allows customers to choose the most cost-effective option that meets their business objectives while keeping data available and recoverable.
"Our customers have specific backup retention requirements and often need to archive data for years, so we're excited to have the ability to use Amazon Glacier as a long-term storage tier," said Stuart Lupton, Technical Architect – Cloud at DB Systel UK.
N2WS Recovery Scenarios brings entire workloads back to production in seconds, eliminating time-consuming manual tasks. Customers can define a policy that will recover an entire application or service with a single-click. N2WS Recovery Scenarios will restore each component in a pre-defined order, including compute and data resources, as well as Amazon Virtual Private Cloud (Amazon VPC) and other networking settings. For disaster recovery, this can be orchestrated to recover to another AWS Region or another AWS account to ensure a quick and complete recovery. N2WS Recovery Scenarios can be used to run recovery drills to demonstrate compliance and ensure full disaster readiness.
N2WS Backup & Recovery allows customers to calculate EBS snapshot costs per policy, helping them to build a clearer picture of their backup storage spend in AWS. Customers can quickly visualize how storage costs change over time and optimize backup storage (using N2WS Data Lifecycle Management) to align with budget goals.
"AWS Cost Explorer takes the guesswork out of calculating backup costs and allow us to make a more informed decision on where we store backup data," Stuart Lupton continued.
Enhanced - Resource Control cost optimization
N2WS gives the ability to see how much money is saved by turning off non-critical instances, when not in use. Customers can add or remove resources at the click of a button and achieve near real-time infrastructure savings.
Enhanced - User Interface
The new N2WS UI prioritizes ease of use to deliver a modern, streamlined interface. A new dashboard simplifies backup monitoring, shows backup status and real-time storage costs. From the re-designed navigation tab, customers can quickly create policies, implement EBS snapshot archiving and access detailed reporting. The new user interface provides quicker time-to-value for both new and existing customers, eliminating manual processes so they can focus on innovation.
"We're thrilled to reveal the next chapter of N2WS Backup & Recovery. Every day, we hear from our customers about the importance of efficient storage and infrastructure management and we've worked hard to deliver a set of new capabilities that will help them drive success in the cloud. With the release of version 3.0, N2WS continues to be the go-to solution for enterprise backup and recovery for any type of AWS workload." Gil Sasson, VP of R&D, N2WS.
N2WS Backup & Recovery is an enterprise-class backup, recovery and disaster recovery solution only available on AWS Marketplace. N2WS Backup & Recovery version 3.0 is available for immediate use by visiting AWS Marketplace at: https://aws.amazon.com/marketplace/pp/B00UIO8514
About N2WS
N2WS is a leading provider of enterprise backup, recovery and disaster recovery solutions for Amazon Elastic Compute Cloud (Amazon EC2), Amazon Relational Database Services (Amazon RDS), Amazon Redshift, and Amazon Elastic File System (Amazon EFS). N2WS was founded in 2012, with the mission to make enterprise-level Amazon Web Services (AWS) backup easy and reliable for AWS, and today serves thousands of customers around the world. N2WS Backup & Recovery is a preferred backup solution for Fortune 500 companies, enterprise organizations and Managed Service Providers operating large-scale production environments on AWS. To learn more, visit http://www.n2ws.com.