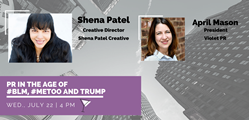 "It is my belief that diversity and inclusion must authentically exist at the core of an organization's value system in order for true change to happen," said Shena Patel, creative director at Shena Patel Creative.
MONTCLAIR, N.J. (PRWEB) July 15, 2020
How can company leaders authentically incorporate diversity and inclusion into their culture, mission and brand? Violet PR, a boutique, New Jersey-based public relations firm, will be exploring this topic as it conducts the webinar, "PR in the Age of #BlackLivesMatter, #MeToo and Trump," on Wednesday, July 22, 2020, from 4-5 p.m. EDT. The virtual session will be a Q&A format moderated by Violet PR President, April Mason, featuring creative director and diversity expert, Shena Patel.
Many organizations – including those in the predominantly white male-led real estate, economic development, and architecture/engineering/construction (AEC) industries – are grappling with diversity challenges. The July 22 session will identify best practices for achieving an authentically diverse and inclusive culture.
"It is my belief that diversity and inclusion must authentically exist at the core of an organization's value system in order for true change to happen," said Patel, who has built diverse creative teams for agencies as well as brands such as Chico's and Bed Bath & Beyond. "We must make it a priority to have honest conversations about racial unrest and our own inherent biases, create environments in which equality thrives, and make heightened efforts to understand and shift the nuanced cultural and political climate we currently live in."
Born in London to parents from India, Patel moved to New York City as a child. With a bachelor's degree from McGill University in Montreal and a master's degree from Goldsmiths, University of London, she has studied, traveled and lived around the world.
"During these rapidly changing times, it's critical that organizations recognize appropriate ways to communicate about diversity and inclusion, while seeking to become more diverse themselves," said Mason. "Particularly because the fields we work in are predominantly white-led, I'm thrilled that Shena is available to talk openly with business leaders and communications experts. No question will be considered off limits during our interactive webinar."
The upcoming session will also explore ways to amplify an organization's "voice" in a way that is authentically supportive and inclusive. It will also discuss ways business leaders can avoid sounding "tone deaf" when talking about race, gender and privilege.
Violet PR's Mason boasts over two decades of experience developing public relations campaigns for clients large and small. An expert in economic and real estate development, Mason seeks to represent underserved destinations and demographic sectors and actively partners with women- and minority-owned businesses. She was named one of New Jersey's Top 50 Women in Business in 2020 by NJBIZ.
Please note that the webinar is free, but the limited number of spaces will be prioritized for executives and communications professionals in the economic development, real estate and AEC industries. To register, visit: https://register.gotowebinar.com/register/7897286655064498191.
About Violet PR
Whether it is rebranding a city, drawing attention to a revitalized neighborhood, or promoting a new sustainable development, Violet PR helps clients make a difference. Through a combination of news stories, social media and compelling content, our New Jersey-based boutique public relations firm helps clients attract more dollars and supporters. Follow Violet PR on Twitter: @Violet__PR. For more information, visit: http://www.violetpr.com.