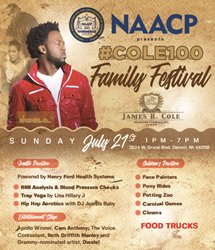 "As a native Detroiter, I'm honored to perform at an event celebrating a truly great family and the business it has built in our great city" says Dwele. "It will be a party to remember."
DETROIT (PRWEB) July 15, 2019
The James H. Cole Home for Funerals has announced that the National Association for the Advancement of Colored People (NAACP) has signed on as the title sponsor of a free family festival in recognition of the funeral home's centennial anniversary. The festival will take place on Sunday, July 21, from 1 p.m. to 7 p.m.
A fourth-generation family business, the James H. Cole Home for Funerals turns 100 years old in 2019. In recognition of the business' 100 years of service to the community, it is holding a number of celebratory events throughout the year. The free #Cole100 Family Festival is open to the public and will be held on the grounds of the business' flagship location at 2624 W. Grand Boulevard.
"We're proud to be a part of recognizing the James H. Cole Home for Funerals and the 10 decades of compassionate care it has delivered to families in and around Detroit," says NAACP President and CEO Derrick Johnson. "We look forward to celebrating a true Detroit icon at this family friendly event."
The festival will feature live performances by Apollo winner Cam Anthony, "The Voice" contestant Beth Manley, and Grammy-nominated performer Dwele.
"As a native Detroiter, I'm honored to perform at an event celebrating a truly great family and the business it has built in our great city" says Dwele. "It will be a party to remember."
Other festival attractions will include hip hop aerobics with DJ Jewels Baby and trap yoga with Lisa Hillary. Henry Ford Health System will be offering free blood pressure checks and BMI monitoring in its health pavilion. The festival will also feature many child friendly attractions including carnival games, a train, a petting zoo, face painting, and a performance by Fresh the Clownsss. All attendees will be invited to enjoy the sweets and savories of local food trucks.
"We're honored that the NAACP is recognizing our work in the community by serving as the host of the family festival," says Karla Cole Green, James H. Cole Home for Funerals President. "This event offers an opportunity for us to thank our fellow community members for their continued support of our business."
About James H. Cole Home for Funerals
In 1919, James H. Cole, Sr. embarked upon a business that would remain in his family for generations to come. Cole founded a funeral home that would service local Detroiters in need of funeral services. The family's strong emphasis on compassion and service fueled the growth of the business. Today, the Cole family operates two Detroit-based locations.
In 1950, Cole Sr. was joined in business by his son, James H. Cole Jr. Cole Jr., who in 1980 welcomed his youngest daughter, Karla M. Cole - Green to the family business. Mrs. Cole's two sons, Antonio and Brice Green, joined the business in 2007. Today, the James H. Cole Home for Funerals holds the distinction of being the oldest Black-owned funeral home in the city of Detroit. For more information on the James H. Cole Home for Funerals, visit http://www.jameshcole.com.