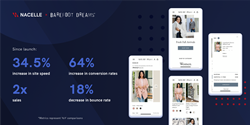 Merchants want to offer their customers the best shopping experience which means load times and shopping UX is top of mind for the fastest growing DTC brands
LOS ANGELES (PRWEB) January 13, 2021
Nacelle, the headless commerce platform for eCommerce retailers, has raised $18m in Series A funding to grow its business. The L.A. based startup delivers dramatic improvements in page load speeds and overall shopping experience for eCommerce websites on desktop and mobile. The speed gains and the app-like shopping experience enabled by Nacelle's technology have translated into a 25%+ uplift in conversion rates, higher average cart sizes and increased product catalog discoverability. Plus with Nacelle, stores can handle large traffic spikes without crashing or slowing page loads (essential to direct-to-customer (D2C) brands that use drop release models or affiliate marketing).
The Nacelle platform delivers headless functionality and performance improvements while working with a brand's existing eCommerce technology stack, including leading eCommerce platforms. There's no need for lengthy and risky data migrations or changing systems and processes. And by giving eCommerce development teams highly scalable APIs, backend flexibility, and advanced frontend components, they can use best-of-breed technology for an optimal headless build, unique to their business needs.
The latest funding round was led by Inovia Capital and included previous investors Index Ventures and Accomplice, with Lerer Hippeau, High Alpha, Silas Capital also participating. Nacelle will use the new funding to build and add new functionality to its product and expand its team. The company expects to triple in size over the next twelve months with new hires in Software Engineering, Sales, Marketing, Product and Customer Success.
Notably, Nacelle's technology underpins the eCommerce store launched last July by D2C fashion brand Something Navy, enabling it to sell over $1m worth of clothing in 30 minutes of going live, without a glitch. At launch, Something Navy's site delivered a 1.4 second load speed and a 34-millisecond page-to-page change load speed (around 600 times faster than typical eCommerce sites) allowing shoppers to move between pages with ease.
Other customers include Barefoot Dreams which launched its Nacelle-powered headless Progressive Web App in November 2020, increasing site speed by 34.5%. The improved shopping experience has contributed to a record-breaking 64% increase in conversion rate, 18% decrease in bounce rate, and sales have doubled.
Nacelle's CEO and founder Brian Anderson previously ran a Shopify Plus agency that specialized in custom headless builds for Shopify Plus merchants, including building PWAs, which contribute to massive performance improvements. Through this experience Anderson and his team ran into many of the complexities and challenges of custom headless builds, which ultimately resulted in the launch of a new company, Nacelle. He built Nacelle's headless commerce platform in a bid to reduce the complexity and cost of rolling out headless functionality and make it more accessible.
"Over the last decade, technology has changed the world of eCommerce. Merchants want to offer their customers the best shopping experience which means load times and shopping UX is top of mind for the fastest growing DTC brands," said Anderson. "We're excited to lead the way in the headless movement for online retailers."
How Nacelle's Headless PWAs Deliver eCommerce Speed Gains
Nacelle's frontend components leverage advanced PWA functionality that loads an entire store at once, when a visitor first arrives. Unlike traditional websites, there's no delay created by the back and forth of data between browser and web server each time a shopper moves to a new page. This creates the lightning-fast, smooth, app-like experience without requiring the shopper to actually install an app on their phone.
The key difference between headless commerce and traditional online stores is that with headless the frontend shopping interface is decoupled from the backend data and systems of the eCommerce store. This allows merchants to update their customer-facing storefront without backend coding or system updates. And similarly, they can update their backend functionality without disrupting their frontend customer experience. The main advantages of headless commerce are maximized customization, storefront performance gains and enhanced developer workflows.
Nacelle's platform integrates with existing eCommerce platforms such as Shopify Plus and over 30 leading eCommerce apps including Klaviyo, Yotpo and Attentive.
Nacelle previously raised $4.8m in Seed Series funding led by Index Ventures and Accomplice, plus other leaders in the eCommerce industry.
About Nacelle
Nacelle is the leading headless commerce platform for today's scaling eCommerce brands. With Nacelle, retailers can leverage true headless functionality using their existing tech stack, without risky or lengthy backend data migrations. Development teams use Nacelle's highly scalable APIs, backend flexibility, and advanced frontend components to enhance webstore performance resulting in 25%+ increases in conversion rates and higher average cart sizes. Top retailers including Something Navy and Barefoot Dreams have partnered with Nacelle to go headless the right way. To learn more visit http://www.getnacelle.com.
Media Contact:
Uday Radia, Cloudnine PR
+44 (0)7940 584161
uradia@cloudninepr.com
or
Kelsey Burnes, VP Marketing, Nacelle
kelsey@getnacelle.com