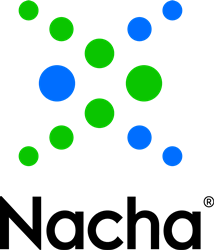 HERNDON, Va. (PRWEB) December 28, 2020
Nacha and its Payments Innovation Alliance have expanded the ACH Quick Start Tool, an online educational resource designed to help small and medium-sized businesses more readily understand and use ACH to make and receive payments for an array of use cases.
The ACH Quick Start Tool has been updated to feature information on business-to-consumer (B2C) payments. ACH enables a business to push money to a consumer's account. The most common form of a B2C payment is Direct Deposit. Businesses can also use this method to pay customers for various reasons, including a business refund of an overpayment, or an insurance payment, among other examples.
The ACH Quick Start tool was originally launched in 2019 to help small businesses use ACH for business-to-business (B2B) payments, such as paying supplier invoices, bills and other business expenses, as well as getting paid by ACH for the goods and services they sell ― instead of by paper check.
The Alliance is comprised of a diverse membership of corporates, third-party processors, fintechs and financial institutions that has a broad understanding of the payments environment. The ACH Quick Start Project Team was launched to develop actionable tools to help businesses learn more about and adopt ACH as their preferred payment method.
Visit the ACH Quick Start online tool at ACHQuickStart.org. For more information on the ACH Quick Start initiative or to join the Alliance's ACH Quick Start Project Team, visit http://www.nacha.org/payments-innovation-alliance.
About Nacha
Nacha governs the thriving ACH Network, the payment system that drives safe, smart and fast Direct Deposits and Direct Payments with the capability to reach all U.S. bank and credit union accounts. More than 24 billion ACH payments were made in 2019, valued at nearly $56 trillion. Through problem-solving and consensus-building among diverse payment industry stakeholders, Nacha advances innovation and interoperability in the payments system. Nacha develops rules and standards, provides industry solutions, and delivers education, accreditation and advisory services.