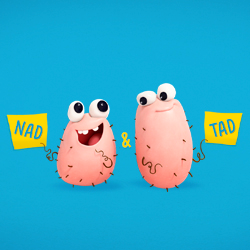 AUSTIN, Texas (PRWEB) April 02, 2019
The Testicular Cancer Foundation (TCF) is announcing a new campaign featuring two animated testes, Nad & Tad, to jumpstart a conversation about the importance of self-exams and checking for testicular cancer. Launching during Testicular Cancer Awareness Month, the humorous campaign targets men ages 15 to 34, those most commonly affected by the disease. With incidence rates on the rise, testicular cancer often goes undetected due to a lack of education on why and how to proactively screen for symptoms.
Nad & Tad touchpoints during Testicular Cancer Awareness Month:

Online Web Series at NadandTad.com: Nad & Tad teach men how to identify the signs of testicular cancer and perform a self-exam through a series of short, funny videos created by award-winning animators Aardman Nathan Love (of Wallace and Gromit fame) and healthcare advertising agency Patients & Purpose.
"Nad & Tad-ify" Yourself on Snapchat: During the month of April, Snapchat users can create a personalized Nad & Tad video. Life as a testicle never looked so good. Unlock the lens here.
Limited Edition Custom Brew in New York City: Cheers! Gun Hill Brewing Company in NYC is releasing a limited edition Nad & Tad Odd Ball Ale that will be available in bars around the city. In addition, the testicular duo can be found on coasters and posters to further engage men in places where conversations around cancer are seldom heard. For a list of breweries and bars serving Odd Ball Ale, visit NadandTad.com.
Shareable Content on Instagram, Facebook, Snapchat, and Twitter: Follow the infamous pair on social media and join the conversation #NadandTad.
"Fighting a disease that affects a demographic that is young and feels invincible is an uphill battle, but we are taking it head on," says Matt Ferstler, TCF founder. "Being the only full-time staffed testicular cancer group and leading provider of education materials in the country, it is our mission and obligation to ensure every male knows the warning signs of the disease and how to perform a testicular self-exam."
TCF was founded by Ferstler, who was diagnosed with testicular cancer at the age of 22. Frustrated that he didn't know the warning signs, the importance of a self-exam, or that he was susceptible to this disease, Ferstler turned his frustration into action. In 2009, the Testicular Cancer Foundation was born and has since been a driving force in the men's health and testicular cancer arena.
"We are beyond excited about our partnership with Patients & Purpose and the 'Get in Touch With Your Testes' campaign. With Nad & Tad's help, we have the potential to reach a huge audience and educate them on the importance of self-exams. It also doesn't hurt that these dudes, if I can call them that, are hilarious!" said Kenny Kane, TCF CEO.
"By bringing awareness to testicular cancer, we can help close the education gap and motivate men to get in touch with their testes. And what better way to do that than with two hilarious testicles who are on the ball about testicular cancer?" said Dina Peck, Managing Partner, Executive Creative Director at Patients & Purpose. "We are thrilled about our partnership with TCF."
About the Testicular Cancer Foundation
The Testicular Cancer Foundation provides education and support to young men to raise awareness about testicular cancer. TCF also supports families of testicular cancer patients and shares its resources with the medical and healthcare communities, schools, and various young men's groups.
About Patients & Purpose
Patients & Purpose is a full-service, award-winning agency dedicated to patients and marketing health brands. They are multichannel experts, with deep emerging technology expertise, and develop novel approaches to patient and consumer engagement. Patients & Purpose is the go-to patient agency for Omnicom Health Group. For more information, please visit http://www.patientsandpurpose.com.
About Aardman Nathan Love
Aardman Nathan Love is an innovative animation, design, and development studio located in NYC. Driven by a passion to tell great stories and connect with audiences around the globe, Aardman Nathan Love develops memorable characters, imaginative worlds, and engaging narratives for television, film, interactive, and more.
About Gun Hill Brewing Company
Founded in 2014 and located in the Bronx, Gun Hill Brewing Company is dedicated to bringing high-quality, hand-crafted beer to the people of NY.